April 2020 Picks
Valerie recommends:
Assassin's Apprentice by Robin Hobb
At five, Fitz is thrown into a world he never expected to know. He finds out that his father is the King-in-Waiting. Because Fitz was conceived out of wedlock, he has no claims to the throne or the royal family. However, his father, Prince Chivalry, wants to give him a better life than the life of a beggar. He commands that his right hand and battle partner, Burrich, to teach him and raise him as a stable hand. Quickly, Fitz's role evolves as he's noticed by his grandfather, King Shrewd.
Kim recommends:
Layoverland by Gabby Noone is a surprisingly hilarious but thought-provoking novel about Beatrice Fox, a judgmental 17-year-old girl who gets a "job" in the Afterlife as a counselor in Purgatory, or "Layoverland."  This place looks like an airport, with a hotel and food court, and everything is mediocre there, from jello surrounding all food to luke-warm showers.  She makes unexpected friends, from her Valley Girl mentor who died 30 years ago to the boy who was driving the car that caused her fatal accident.  Bea realizes things about herself and grows as a person, even though she's physically frozen in time, runny mascara and all.  I'd recommend this book for high-schoolers, and adults who like atypical fantasy Young Adult fiction.
Peggy recommends:
Streaming on Kanopy. Some of my favorites are The Bookshop, Eighth Grade, Trumbo, Amy, the tragic story of Amy Winehouse, and The Florida Project. These are all movies available to order once the library is open again, however, with Kanopy, you don't have to wait for it to come. It's right there, right now, ready to stream. I'm loving it!
March 2020 Picks
Dan recommends:
I'm Not Scared by Niccolo Ammaniti
Creepy thriller from the Italian countryside starring a band of impoverished children and their ne'er-do-well parents. Set in low hills in a wheat farming region of Italy, the low dry hills and streambeds are a perfect setting for nasty behavior by children and adults. Luckily, the main boy and his sister redeem themselves from the brutality of families and friends by showing courage and kindness at the right time.
John recommends:
Naked Came the Florida Man by Tim Dorsey
Everybody's favorite serial killer is back.  He's on a history tour, but has time for 3 (or more) "science projects".  Coleman, Serge's sidekick is still stoned and this time the vehicle is a Plymouth Belvedere with a huge engine.  Unusually, Serge involves a couple of civilians on his history tour and one of the themes is football (boo) but there are plenty of other interests.   Read it quick, before they are apprehended.
Kim recommends:
That's What Friends Do by Cathleen Barnhart
and

Mystwick School of Musicraft by Jessica Khoury
That's What Friends Do and The Mystwick School of Musicraft are two 2020 books that on the surface seem very different but have some commonalties.  They are both aimed at preteens but I would recommend That's What for perhaps 10 and up, while Mystwick could be a read-aloud for as young as seven.  Both books have 12-year-old female protagonists, although in That's What Sammie's narration alternates with that of her best friend David, who has a secret crush on her.  Things get complicated for Sammie and David when new kid Luke moves to town and flirts with an uninterested Sammie, crossing over into harassment, which David misinterprets.  Despite the heavy issues of consent and harmful rumors, Barnhart's book remains a believable and at times funny story of modern middle-schoolers negotiating confusing new territory, with no simplistic "good kids" and "bad kids," heroes or villains, here.
Mystwick offers a simpler yet surprising world, much like our own, with the Internet and television, but also with music that is magic.  This novel (I suspect the first in what will become a series) is obviously a Harry-Potter-read-alike, but with some significant differences.  In Khoury's world, anyone is capable of doing at least basic magic, as a Novice, with a little practice, so there are no "Muggles" that the magic has to be hidden from.  The most musically talented can audition for Mystwick when they're twelve years old, but competition is fierce, so it's not like at Hogwarts, where you're born magical and guaranteed a spot.  Main character Amelia is the daughter of a Maestro (very talented musician-magician) but that is no guarantee she can get into the school, especially when her audition goes spectacularly bad.  Yet somehow, she ends up at the school, where her best friend is a boy with family issues like and unlike her own.  (Parent-child relationships are an important part of both novels.)
The books can, of course, be read separately, but I recommend both for their humor and relatability.
Valerie recommends:
Throne of Glass by Sarah J. Maas
The first book in this series introduces Celaena Sardothien. Her fierceness as an assassin is known throughout the land. After betrayal, tragedy and her capture, Adarland's King enslaves her. It is only after Prince Dorian offers her a deal for her freedom that she rekindles the fire in her heart and the hope for her country. I liked this series because it had many unexpected twists and turns, and the characters are fiercely loyal to one another.
Peggy recommends:
Using the rings of a tree as the structure, Christie weaves an intriguing tale of love and fortune through the years, making Greenwood a unique page turner.
Getting ready for summer vacation? Well, here's the ultimate guide to everything camping in Northern California. Whether you plan to go far and wide or just vacay in place, this is the best resource for what you need to know.
Amie recommends:
Red at the Bone by Jacqueline Woodson (Book on CD)
I didn't read this, I listened to it. And I found myself sitting in the car for hours just to get one more piece of it. It's a heartbreaking story about a family told from five perspectives, and as the book on CD, each character is more beautiful than the last.
This book took me twenty years to read, but it's worth it. A beautiful story about the Catholic/Protestant war for Ireland and a good read for St. Patrick's Day.
Parasite (DVD)
This film, though quite funny, terrified me. I did not know people could be so horrendous. Definitely worth the watch, or read, in my case. Worthy of its Oscar!
Ford vs. Ferrari (DVD)
I thought this movie was about Matt Damon driving a Ford and Christian Bale driving a Ferrari. I was wrong. It was hilarious and touching, and fun all the way through.
Dennis recommends:
Dirty Boogie by Brian Setzer Orchestra  (CD)
Lively, up tempo rock with a big band horn section.  Tunes like Jump Jive and Wail describe this CD which definitely livened up Friday's radio show at 2 pm on KNYO107.7 & KNYO.ORG.
Blowout is a journey around the globe revealing the greed of Big Oil and Gas and how and why the Russian government hacked the 2016 U.S. Election.  Blowout is a call to fight for transparency and to stop subsidizing the wealthiest business on earth and to check the influence of the world's most destructive industry and its enablers. Rachel Maddow is an MSNBC television host with a Ph.D. in political science.
February 2020 Picks
February is LOVE month and what better expression of LOVE than to share your favorite book? Stop by our LOVE THAT BOOK table and tell us what YOUR favorite book is. While you're there, check-out some of the other favorites!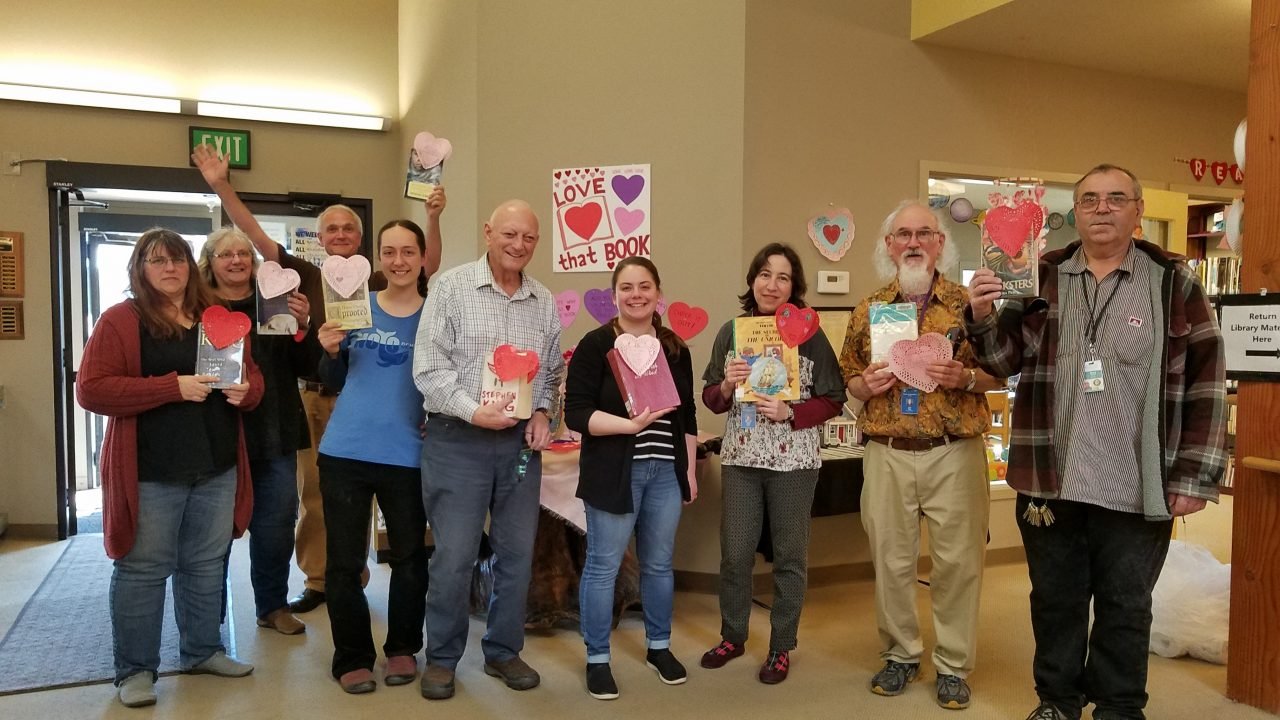 Below are the patron favorites we checked out:
It by Stephen King
"Amazingly written, a thrilling and quick read!"
The Art of Racing in the Rain by Garth Stein
"For the love of a dog."

The Girl Who Loved Tom Gordon by Stephen King
"Because sometimes love can save the day."
Tricksters by Tamora Peirce
"My love for Tamora Pierce's books knows no bounds. This was the first duology I read by her."
Master and Commander by Patrick O'Brian
"This book was made into a movie starring Russell Crowe. I love all the books by Patrick O'Brian."
The Warrior Series by Erin Hunter
"A housecat who becomes a wildcat hero."
Uprooted by Naomi Novik
"A love for fairytales, transformed."
Tintin and the Secret of the Unicorn by Herge
"A fun read with a little loved one."
Gone With the Wind by Margaret Mitchell
"For the love of wonderful literature! The best novel of all time.
Alarms and Diversions by James Thurber
"When I was about 3 years old, I asked my mother if we had won the war (WWII). Her reply was: Nobody ever wins a war. See page 335."
Kim recommends:
Lintang and the Pirate Queen by Tamara Moss
Lintang and the Pirate Queen feels at first like a tropical version of The Spiderwick Chronicles by Holly Black and Tony DiTerlizzi, but the world building in this debut of a projected series of five fantasy novels turns out to be different than my initial impression. Although the funny little excerpts from the guidebook-within-the-book about mythies (mythical creatures like in our world but with some twists) continue throughout.  The origin of the mythies, and indeed much of what disobedient but well-intentioned heroine Lintang has been taught on her safe little island, turns out to be different and more complicated once she goes sailing in the company of the notorious but good-hearted pirate queen.  Even Lintang's best friend, a boy named Bayani, has an array of secrets, not all of them revealed in the end.  This novel has wit and panache and complexity, yet accessibility (and I'm someone who can quickly get lost among a huge cast of characters or an unfamiliar setting), rare in preteen literature.  I recommend it primarily to girls ten and older, although I think boys looking for a fun adventure and a protagonist who is not the usual "chosen one" would enjoy it, too. It would make a great read-aloud for as young as seven, especially since parents will get a kick out of it as well (particularly the parts about the politics of this alternative world).
John recommends:
Tale of Briar Bank:  The Cottage Tales of Beatrix Potter by Susan Wittig Albert
This book has fascinating asides by the local animals and a mystery involving treasure.  Enjoy
Peggy recommends:
Mr. Mercedes (DVD TV series based on Stephen King's Trilogy)

I just LOVE Brendan Gleeson, in pretty much everything he does. However, it was with great trepidation I took on this series for I read the books and I could not, for the life of me, picture Mr. Gleeson as Bill Hodges. But, was I ever wrong! The cool thing is they didn't try to make an Irishman sound like an American and I like that. He keeps his Irish accent and still brings Bill Hodges to life. The series is a little slow at first but it gets there and, boy, does it get there. Excellent acting. One of my new favorite Stephen King adaptations. My other favorites are Shawshank Redemption, Carrie, Stand By Me, Cujo and Misery.
Olive, Again by Elizabeth Strout
Olive Kitteridge, what can I say? I had a hard time liking her in the Pulitzer Prize winning Olive Kittridge novel but, boy, did it make me think. For days and days after I read it. So I said, Olive, again? Why not. I still have a hard time liking Olive but again, it's making me think about her. For days and days. Give it a try. I listened to the book on CD where Kimberly Farr gives Olive a voice, albeit ratcheting, but, well, that's Olive, isn't it?
Dennis recommends:
COSMOS: A space time odyssey hosted by renowned astrophysicist Dr. Neil de Grasse Tyson. (DVD)
Prepare to take an unforgettable journey to new worlds and across the universe for a vision of the cosmos.
FARTHEST VOYAGE IN SPACE (DVD)
Take a journey with Voyager spacecraft to all the planets in our galaxy and beyond.  On board Voyager is a recording of life on Earth, like a bottle in water with a note to whoever aliens discover Voyager.
HALLS OF MONTEZUMA (DVD)
I was curious to see actor Richard Boone playing another character other than Paladin in Have Gun will Travel. In this movie, Richard Boone plays a marine corp. colonel along with an all-star cast of Richard Widmark, Jack Webb, Robert Wagner, and Karl Malden.  Richard Boone was Navy chief petty officer 1st class and a tail gunner on a torpedo bomber in real life.
Valerie recommends:
Spin the Dawn by Elizabeth Lim
Maia is the youngest and only daughter of a renowned master tailor. Unlike her three brothers, she loves her family's craft. She dreams of being the tailor to the emperor. Unfortunately, in her culture, women cannot be master crafters. Maia is still determined to find a way to make her dreams come true. When an opportunity arises to bring wealth and respect to her family, Maia pretends she's a boy and begins an adventure that will change her desires for her future. I loved this book because it has a tailoring competition in it, and the author does a great job of describing all of the garments.
Amie recommends:
I read this book when I was 19, and cried and cried. Memed (pronounced mehmehed, not meme'd as Valerie would have you think), is a beautiful Turkish boy in love with the wrong girl and thrown into the wrong fight. Beautiful and haunting, and perfect for our drizzly winter.
It's hard. But you have to watch it once. Hard.
January 2020 Picks
Amie recommends:
The Burning: Massacre, Destruction, and the Tulsa Race Riot of 1921 by Tim Madigan
I had never heard of this devastating chapter of our history. Why? Why had I never heard of this? It's time for every one of us to move out of our comfort zones and learn the truth and change the future.
That's my 2020 soapbox. I'm not getting down.
I Can't Make This Up: Life Lessons by Kevin Hart (audiobook)
OMG, he's so freaking funny! I'm sure the book is hysterical, but to have Kevin Hart read his own words is crash-your-car-into-a-tree funny! Get this on CD, but not yet, 'cuz Ima listen to it again.
Once Upon a Time in Hollywood (DVD)
So, the plot's not great, but Brad and Leo are fantastic! FANTASTIC! FANTASTIC!
Peggy recommends:
Wilder Than Wild: Fire, Forests, and the Future (DVD)
Wilder than Wild: Fire, Forests, and the Future reveals how fire suppression and climate change have exposed our forests and wildland-urban landscapes to large, high intensity wildfires, while greenhouse gases released from these fires contribute to global warming. In this one-hour documentary, filmmaker Kevin White takes us on a journey from the Rim Fire of 2013 to the wine country wildfires of 2017. Along the way, we learn how the proactive use of prescribed fire can reduce reliance on reactive fire suppression, and we meet stakeholder groups working with scientists and resource managers to build consensus on how to restore and manage the lands we love and depend on.
Very informative documentary on how wildfires get started and how we can help prevent them.
The Essential Vegan Instant Pot by Coco Morante
Okay, I don't profess to be a true vegan because I like butter and eggs too much. However, this is a great resource for plant-based cooking, especially with everyone's new toy, the Insta-Pot! I don't know about you, but I love mine. It makes cooking so much faster and easier and this book has some wonderful recipes and tips for pressure cooking a healthier diet. I like it so much I bought a copy for myself.
Adopted from a war-torn country just ten years prior, Luce becomes the very essence of what many consider to be the American Dream. However, all changes when his teacher encounters a shocking revelation upon examining the contents of Luce's locker. Luce is then charged with fighting to maintain his integrity and reputation, as everyone around him begins to question his true character and motives.
A friend described Luce as "unnerving but a must see". So I did see. And she was right.
Kim recommends:
The Swerve: How the World Became Modern by Stephen Greenblatt
The Swerve: How the World Became Modern is the lively, thought-provoking true story of how the rediscovery of a Roman poem that was thought to be lost forever influenced the Renaissance, and the rest of the modern era.  Recommended for anyone who loves books and book-hunting, as well as language and ideas, and juicy gossip about historical figures.
Dennis recommends:
THE MUELLER REPORT:presented with related materials by The Washington Post
Without getting political,  my impression of the book is that it is so factual with dates and times, it reads like a legal diary.
CDs played on the Library Hour with Dennis Dias KNYO 107.7 FM and KNYO.org, Fridays @ 2pm:
Christmas Songs by Diana Krall (CD)  featuring the Clayton Hamilton Jazz Orchestra
and
Dionne Warwick Greatest Hits 1979-1990
John recommends:
Tale of Holly How by Susan Wittig Albert
This is the second book in a series about Beatrix Potter's purchase of a cottage in the lake district of northwest Britain.  In this novel, a crime is prevented (Yay!) and another is solved with the help of badgers.
The interactions of domestic animals and wild animals is interesting especially when a pet is lost and helped by an ancient badger who is the keeper of his clan's history.
Valerie recommends:
Touch the Dark by Karen Chance
Cassie Palmer is not ready for her newfound responsibilities. As a clairvoyant, and former prisoner of one of the most powerful vampires in North America, she has learned to adapt to some odd situations. Now there's even more on her plate: the vampire senate, the dark circle, and needy admirers. I like this series because it's Vegas with vampires, fae, werewolves, mages, and several magical creatures.