May 2023 Picks:
Jennifer recommends: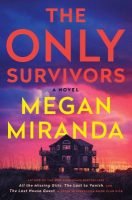 The Only Survivors by Megan Miranda
10 years ago, two vans filled with high school seniors crashed into a ravine, claiming the lives of many classmates and two teachers. The nine students who escaped were changed forever. A year later, one of the survivors dies by suicide on the anniversary of the crash. The remaining survivors made a pact: to come together each year to keep each other safe—or to hold each other accountable. Cassidy tries to distance herself from everyone on the tenth anniversary, but on the day of the reunion, she receives a text with an obituary attached: another survivor is gone. With seven survivors left, Cassidy rushes to their meeting place, a house on the Outer Banks. But something feels off this year. Amaya, annual trip organizer, leaves without communication. With an impending storm, the survivors are faced with closed roads and surging waters…again.
This is another chilling, suspenseful mystery/thriller from Miranda. The book kept me engaged until the end, on the edge of my seat, and surprised by the ending. I did not see the final twist coming. Cassidy is the main narrator, telling the story in the present (the novel flips to other survivors' perspectives in the past, unfolding the event of the initial tragedy), and she has her own secrets, keeping the reader in the dark until the final few pages.
Peggy recommends: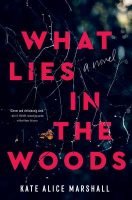 What Lies in the Woods by Kate Alice Marshall
Three young girls spend their summer days roaming the nearby woods playing The Goddess Game. Then one day, one of the girls is attacked and nearly dies. Based on the three girl's testimony, a serial killer is put away for life. But the girls were lying. Twenty-two years later one of the girls wants to confess what really happened, knowing full well the confession could do great harm to their adult lives, and not everyone wants the truth to come out.
What Lies in the Woods is a labyrinth of secrets and lies, winding the reader through the creepy woods of childhood games and imaginations.  This story is a great thriller that's hard to put down.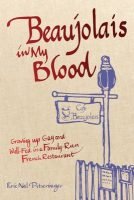 Beaujolais in My Blood by Eric Pitsenbarger
Eric Pitsenbarger tells a heartfelt personal story of growing up in his parents' French restaurant, Cafe Beaujolais in Mendocino. Against the backdrop of immense cultural shift in the late-1960s, in the unique setting of wild, coastal Mendocino, here is a poignant telling of what it was like for a closeted gay kid working and living in a family-run French restaurant. A humorous and gritty.
April 2023 Picks:
Vicki recommends:
April is Sexual Assault Awareness Month, and with current statistics showing that every 68 seconds, an American is sexually assaulted; it's a huge problem and we need to bring more awareness and action to the issue (
https://www.rainn.org/statistics/scope-problem
). Drawing Power: 
Women's Stories of Sexual Violence, Harassment and and Survival is a graphic compilation of illustrated stories and vignettes by women from all walks of life that bring awareness, discussion, accountability and sometimes healing to this all-too common experience. Some of the comics have triumphant endings, and some leave the reader adrift, not knowing what the conclusion, if any, there will be. The style of illustration is as varied and eclectic as the women artists themselves, and every page has something of interest. It's a hard subject, but if you are looking to educate yourself as an ally, or find comfort in knowing you're not alone as a survivor – I recommend this book. Locally, if you need to talk to someone about experiencing a sexual assault, no matter when it happened, Project Sanctuary's crisis line is available 24/7 at 707-964-4357. In addition, RAINN (Rape, Abuse and Incest National Network) has a national 24/7 crisis line at 1-800-656-HOPE (4673). 
Jennifer recommends: