January 2023 Picks
Kim recommends:
After the Snowfall is a stunning yet peaceful picture book, with a simple yet satisfying story.  A fox walks home on a winter night, observing but not disturbing the other animals.  The creatures look realistic but huggable, even the moose, while the leafless trees run the color spectrum, in watercolors.  And of course the black sky and white snow provide strong contrasts to this all.  As for the story, the ending is both surprising and sweet.
Recommended for ages 3 to 9, as well as adults who appreciate lovely children's book illustrations.
Peggy recommends:
Death in Shetland Waters by Marsali Taylor
Marsali Taylor and her Shetland Sailing Mysteries were highly recommended by author Ann Cleeves so, when I started researching this series for the library, I landed on the book author's website. I was instantly intrigued when Ms. Taylor described her experience doing active research aboard one of the Norwegian tall ships thusly "I'm afraid my presence called out the worst instincts of crew and trainees alike; even our dignified Captain Sture came up to me and murmured, 'If I was going to hide a body on board …'"
Now, come on, who wouldn't want to read about murder on a tall ship where everyone is stuck onboard? And, I'll tell you what…it does not disappoint. Give it a try and let me know what you think.
Lessons in Chemistry by Bonnie Garmus
I didn't want to read this because it sounded like it was going to be lame. Then, one of our regular patrons came in and told me it was her new favorite, one she couldn't put down once she started it. I said, "dang! I guess I need to try it." But I didn't. I let it go. Didn't trust her judgement. Then, one of my favorite musicians recommended it on her social media page.  And I said "dang! Now I really need to read it." And I'm so glad I did! It is different, it is refreshing, and it is delightful. My new favorite character, Elizabeth Zott, is a 1960s chemist turned TV cooking show host. Elizabeth teaches women, not only how to cook, but how to stand up for their right to be more than just wives and mothers, and, in so doing, teaches them to change the status quo. I loved Lessons in Chemistry! I hope you will, too.
Jennifer recommends: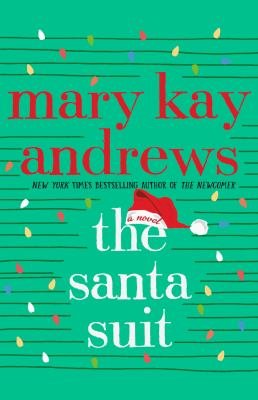 The Santa Suit by Mary Kay Andrews
Newly divorced Ivy Perkins buys an old farmhouse sight unseen, looking for a change in her life.  With the help of Ezra, Ivy's realtor, Ivy begins to renovate the farmhouse.  The previous family left so much junk and furniture, that Ivy needs all the help she can get.  At the top of a closet, Ivy and Ezra find an old Santa suit—beautifully crafted and decades old.  In the pocket of the suit is a note written by a child; a little girl who has one Christmas wish: for her father to return home from the war.  The letter spurs Ivy on a mission.  Who wrote the note?  Did the little girl's father ever come home?  Ivy's quest helps her venture out into her new community at a time when she just wanted to stay home and wallow.  But, Ivy finds more than she bargained for: a welcoming town, new friends, and a second chance at love.
This is a sweet Christmas novella by Mary Kay Andrews about the miracles of Christmas and second chances.  This book reminds me of feel-good Hallmark movies.  So cozy up with this short read if you're still yearning for the magic of Christmas.
John recommends:
Greetings:  This romantic comedy showed a man with few social skills and very little emotion or empathy.  But he did manage to change enough to …well I won't be a spoiler.  This one was humorous in a kind way and really held my attention.  I think it will engage you too!  Enjoy.
December 2022 Picks
Kim recommends:
The Paper Museum is set in a future where paper is both rare and worthless.  However, 12-year-old Lydia is fascinated by books and everything connected to them.  Her family runs the town's museum of paper and she is doing a project where she searches in the museum's library for bookmarks.  Soon, she has a new and more important project: solving the mystery of her parents' disappearance.
This book, aimed at ages eight to twelve, offers a fascinating world, both quaint and dystopic, with a brave, clever heroine, who makes many mistakes (in her sleuthing and in her friendships) but learns from them.
Jennifer recommends:
Opposites attract for a stranded pop star and a small-town baker in this modern take on the Hepburn classic Roman Holiday.  
Feeling burned-out from years as a pop star, Amelia Rose (stage name: Rae Rose) is inspired by her favorite Audrey Hepburn film, Roman Holiday, to take a break in Rome.  Amelia hops in her old car and drives to Rome…Kentucky.  Noah Walker finds Amelia on his front lawn in her broken-down car and offers her his guest room until her car is fixed.  But Noah makes it clear to Amelia that he doesn't have the time or patience for celebrity problems.  He's busy running the pie shop his grandmother left him and reminding his nosy neighbors to mind their own business.  But then Noah starts to see a different side of Rae Rose—Amelia.  Amelia is kindhearted and goofy, though lonely despite her life of fame.  Noah and Amelia begin to get close, but Amelia needs to leave soon for her next tour.  Until then, Noah shows Amelia the charming small-town of Rome, and Amelia helps Noah open up his heart to love again.  Amelia begins to fall for the cozy small-town and her grumpy tour guide…but even Audrey had to leave Rome eventually.   
When in Rome is cute small-town romance.  I couldn't help but laugh at the witty banter between Amelia and Noah—and their funny nicknames for each other!  I can't wait for the next books in the Rome series–it looks like each book will follow a different Walker sibling!  (This book is currently available in our catalog as an eBook and eAudiobook, though a few hardcopies are on order).
Vicki recommends:

OK, this book isn't for everyone. But if it's for you – it's going to be really, really for you. Lazi is a young Taiwanese lesbian student, pining for an older (but not by much) woman and trying to muddle through her last years at University and figure out life as a young adult. The book is divided up into "Notebooks," which are diary entries focused on scenes of Lazi and her rag-tag bunch of queer friends interspersed with a running satirical gag about crocodiles which have invaded Taiwan but are wearing human suits in order to blend in with society. Author Qui Miaojin died very young, and only left a few books behind. I learned later she was a student of Helene Cixous and studied with her in Paris. If you are a fan of Cixous, post-modern feminism, dramatic queer youth yearning, absolutely beautiful prose, and chapters that end with a joke, this book is for you. Also, somebody made a playlist of all the tracks mentioned in the book – allow me: https://www.youtube.com/playlist?list=PLl32QKhy3M8HZf_vYRhEZAJt4LsxTcBcH
November 2022 Picks
John recommends:
This book is a pleasant eulogy of a fictional character that has many similarities to Pay it Forward.  Very positive and well-organized, it is a pleasure to read.  Enjoy.
Peggy recommends:
Back to the Garden is set just south of San Francisco, on a large garden estate run by a former commune leader, the grandson of the estate's former owner. When bones are discovered buried under a statue that has been in the same place for over 50 years, detective Raquel Laing, an expert on the serial killer known as the Highwayman, is called in to determine if the bones belong to one of his victims. In researching the estate's archives, Det. Laing is drawn toward the reclusive owner as a possible suspect and other lives may be in danger the closer she gets to the truth. Balancing between past and present, Ms King weaves the story with layers of historical interest leading to a startling resolution.
I have loved this Santa Cruz native's books since the Kate Martinelli series back in the nineties and, while I enjoy the Mary Russell/Sherlock Holmes series, I prefer her stand-alone novels. This one does not disappoint.

Jennifer recommends:
The Dead Romantics by Ashley Poston 
Florence Day is a ghostwriter for one of the most popular romance authors.  But after a terrible breakup, Florence believes love is dead.  When her new editor won't give her an extension on her book deadline, Florence prepares to kiss her career goodbye. When Florence receives a call that her father has died, she returns home for the first time in a decade to help her family bury him.  Ten years ago, Florence ran from the town that never understood her or the gift she shared with her father: the ability to see and speak with ghosts.  When Florence returns to her family's funeral parlor, she finds someone familiar at the front door: Benji Andor, her new editor.  There's just one catch: he's a ghost.  Now, Florence has to help Ben complete his unfinished business so he can move on.  Ben's unfinished business will have Florence second-guessing everything she's ever known about love stories.   
This is Ashley Poston's debut adult novel, and I have to say it is one of my top five reads of the year!  The chemistry and tension between Florence and Ben is palpable, yet they literally can't touch each other (one of them being a ghost).  This just added to the beautiful and heart-wrenching love story.   
Vicki recommends:

Consent (For Kids!): boundaries, respect and being in charge of you by Rachel Bryan
This graphic novel is geared towards kids 6-13, but I enjoyed it very much while reading to my seven-year-old. The drawings are simple stick figures, but they are expressive and the comic book style and hilarious word bubbles make the text engaging. For parents looking for a way to talk to your child about body boundaries without getting into a discussion about sex, this book is for you. And it's so important!! Prevention is the key to ending child abuse, family violence, and bullying, and it starts with each of us. If you are struggling with how to convey healthy relationships with the youth in your life, let this light-hearted book be a tool in your kit. And for those of us grown-ups who didn't have someone to teach us when we were little, this book is a great tutorial on how to navigate relationships while taking care of your own needs and reflecting on how we treat others.
Kim recommends:

Josie & the Pussycats (DVD—Available as part of a 4 movie collection)
Josie & the Pussycats (2001) is a clever, fun, brightly colored satire of late '90s/early '00s pop music trends, with the comic-book band brought to life by Rachel Leigh Cook, Rosario Dawson, and Tara Reid.  Parker Posey and Alan Cumming steal their scenes as the scheming villains.  And the opening scenes with "Du Jour" (the boy band of the day) are hilarious even as stand-alones.  The music is very catchy, too.
October 2022 Picks
Jennifer recommends: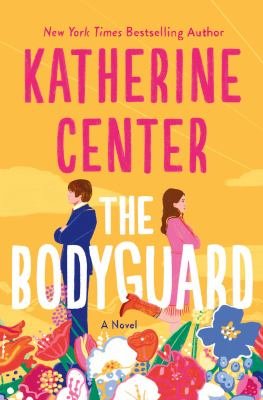 The Bodyguard by Katherine Center
Hannah Brooks is an Executive Protection Agent (aka "bodyguard").  After the death of her mother, and dumped by her boyfriend—and coworker—the day after her mother's funeral, Hannah wants to get away.  She hopes to land the new promotion assignment in London, but her boss has other ideas.  Instead, Hannah is assigned to protect Jack Stapleton, the famous actor.  When Jack's mom gets sick, he returns home to the family's Texas ranch to help out.  One catch: he doesn't want his family knowing about his stalker.  Jack is skeptical about Hannah at first—can this woman who looks more like a kindergarten teacher protect him?—but she soon sets him straight in an amusing display of her skills.  So Hannah—against her will and her better judgment—finds herself pretending to be Jack's girlfriend as a cover.  What could go wrong?
Katherine Center's books are always automatic reads for me, and this one did not disappoint!  There's the witty banter, the often-amusing thoughts of Hannah, and of course swoon-worthy Jack and his lovable family.  But it's not all rom-com; the book also explores more serious subjects.  This book was a lighter read with substance, and pure fun.
Amie recommends:
Charlie Reade hears his super grumpy neighbor's vicious dog barking and realizes something is wrong so he climbs the fence and eventually ends up in The Other world that he's inherited from said grumpy-turned-friendly neighbor to save the life of the vicious-turned-lovebug dog. How do you like that?!? I liked it. The dog is wonderful! But aren't they all? Not scary, not gruesome, kinda in line with Mr. King's Eye of the Dragon.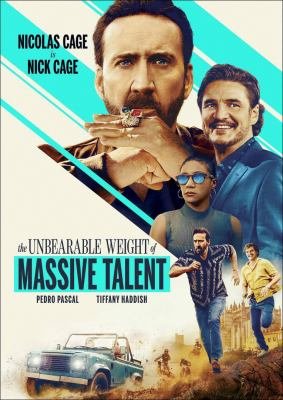 Unbearable Weight of Massive Talent (DVD)
Nicolas Cage plays Nicolas Cage. Epic. And Pedro Pascal (my boyfriend) is hysterical!
Vicki recommends:
California Dreamin': Cass Elliot Before the Mamas and the Papas by Penelope Bagieu (available as an eBook)
I found this book searching through one of my favorite book databases: A Mighty Girl https://www.amightygirl.com/ under the biographies section. This graphic novel tells the story of Cass Elliot, starting with her childhood as Ellen Naomi Cohen, the daughter of the owners of the "only Jewish delicatessen in Baltimore." Elliot's childhood and adolescence were fraught with economic insecurity and the death of her beloved father, but the flamboyant personality, star-power and pure, phenomenal vocal talent was also solidified early on. Bagieu's drawings, all in sweeping, inky, black and white, capture Cass in her full glory – I loved seeing her depicted as dynamic, goofy, sensual, sexy and beautiful, with great facial expression as she navigates countless rejections due to her size, with humor and self-respect. Bagieu also does a great job of humanizing Cass, rendering her relatable through each chapter told through a different character, and highlighting her triumphs and troubles. We all want to be loved, accepted, recognized for our gifts and given our flowers, and Cass embodies these messy, human desires. Despite fellow bandmember John Phillip's multiple attempts otherwise, there is simply no Mamas and the Papas without Mama Cass. Bagieu shows us the tenacity that Cass possessed in order to bring us some of the most beautiful vocal harmonies and catchy jams of 20th century rock and roll. This is a great book for lovers of 60's music and those who want to see a fat, multi-dimensional heroine celebrated with love through the graphic novel.
Peggy recommends: