Seed Saving Tips
**Reminder: Seeds are still available to request (up to 20 seed packets total per individual card holder).
See details and access the Mendocino County Seed Library request form HERE.. 
While everyone is busy reaping the bounties of their planted crops, now is the time to keep in mind the end of harvest season and seed saving. Each year, to replenish your seed reserves (and, hopefully, save a little extra to donate to the Fort Bragg Seed Library!), let a few of your mature open-pollinated plants go to seed. As they are "seeding", check out these helpful links on how to prepare those seeds for saving.
First, follow our Mendocino County Seed Library Facebook page. There are daily postings of helpful planting tips, harvest ideas and seed saving tips.
Next, check out these websites and blogspots:
"Grow seed for the common good: Leading education, research and advocacy to advance organic seed"
Helpful seed saving publication found on their website:
Seed Alliance Seed Saving Guide.pdf

Seed Savers Exchange has tons of useful gardening and seed saving tips. They even have resources for finding those seeds you can't seem to find anywhere else.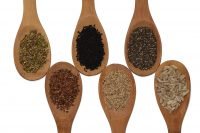 Seed Savers Alliance
"The Alliance for Sustainability: Sustainable, thriving communities where we live."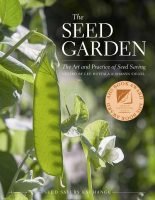 Additionally, if you find it easier to learn seed saving from a book or DVD you are in luck! We have tons to choose from. Check out the link below for items you can request and pickup curbside today!
Books and DVDs in our Find! catalog. Search keywords are Seed Saving.
And last, some great seed saving tutorials we found:
Planting Chart for Mendocino County

Mendocino County has a varied set of climes all at once within its bounds. Mendocino County's Local Food Guide has put together a planting chart specifically designed to address all of those areas, giving us the best information on what grows well in our little part of the county. Click here to obtain the chart.
Winter Newsletter
December 2018
What is Soil Health?
We all want the plants in our gardens to grow strong and healthy but what if they don't? If your plants are growing well, you may not have to worry about it. However, from the Master Gardener Handbook 2nd Ed.: "because most nutritional disorders of plants are difficult to diagnose from visual symptoms alone, tissue and soil analysis are often needed as well. In some instances, plants may not show symptoms of nutritional deficiencies until severe stress has occurred. So, what do you do if your leaves are discolored or falling off? Or your plants grow but don't produce? Sadly, it could be due to your soil's health rather than the plants themselves.
Soil health is defined as the ability of the soil to continually work as a thriving ecosystem that sustains life. Knowing the condition of your soil is vital to this function and every year provides a new chance to learn more about your soil and improve its health.
To learn how to improve your soil's health you need to know there are three basic types of soil textures: sand, silt and clay. If you don't know what type of soil your garden has you can check this chart to help determine its texture. You can't change the texture of your soil but you can manage it using organic material, microorganisms, choice of plants used, nutrients and water flow.
Once you determine your soil's texture you can learn what grows best with its properties.  The University of North Carolina Extension has a great article here on soil properties.
Now that you know your soil and what grows best with it's properties, the key to achieving healthier soil is building soil organic matter using the 4 basic principles the Natural Resources Conservation Service division of the USDA put together in their checklist for establishing and improving soil health. They are: minimizing disturbance (no till, low till, mulch tillage); maximizing soil cover (cover crop, mulching); maximizing biodiversity (diverse crop rotation, cover crop, no till, low till, holistic pest management, holistic nutrient management); and maximizing the presence of living roots (diverse crop rotation, cover crop, no till, low till). Using these 4 techniques, one should be seeing an improvement in the overall health of their plants.
Still not sure about your soil's texture and health? Get it tested. You can have your soil tested by sending a sample to one of the laboratories listed here. Home testing kits are available but according to the USDA, they aren't very reliable. If you're really concerned about your soil's health, it would be better to spend a little money to get a more accurate reading than to rely on a home tester.
To all of our seed library patrons out there…Have a wonderful holiday season and a Happy New Year of gardening! See you at the (Seed) Library!
Spring Newsletter
June 2018