Watch this page for current and upcoming sales.
All sales benefit the expansion.
Check out these items for sale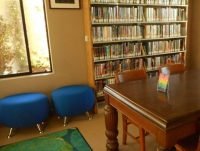 Beautiful, historic wood table. Large sturdy wooden table for sale. 96″ Long x 42″ Wide x 32″ High. Seats 8 adults comfortably.$999 or best offer.
The Friends of Fort Bragg Library purchased this antique table in 1999. It came to California around Cape Horn in a sailing ship. It has served as a reference table in the library and is in good condition. Come see it in the library.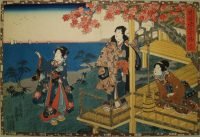 Set of 12 prints sold together for $1200 OR sold separately for $125 each. Date 1851-1852. Series: Magic Lantern Slides from "Tales of the Genji." The color prints are in fair condition, appraised at $100 – $150 each. Origin: The Clarence Buckingham Collection of Japanese Prints from the Art Institute of Chicago. There are also two black and white Manga prints appraised at $30 – $40 each.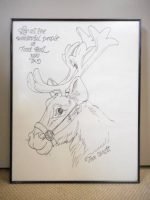 Framed sketches by notable Children's book illustrators, Jan Brett and Ashley Wolff. Sketched originals signed by the artists.
Reindeer drawing is 19″ x 25″ $100 (excellent condition)
Hedgie and Troll is 18″ x 24″ $75 (good condition)
Cat, Frog and other animals is 19″ x 25″ $100 (good condition)
Contact ffblnews@gmail.com if you're interested in purchasing any of the above listed items.