Watch this page for current and upcoming sales.
All sales benefit the expansion.
Check out these items for sale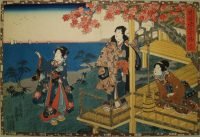 Set of 12 prints sold together for $1200 OR sold separately for $125 each. Date 1851-1852. Series: Magic Lantern Slides from "Tales of the Genji." The color prints are in fair condition, appraised at $100 – $150 each. Origin: The Clarence Buckingham Collection of Japanese Prints from the Art Institute of Chicago. There are also two black and white Manga prints appraised at $30 – $40 each.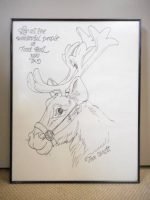 Framed sketches by notable Children's book illustrators, Jan Brett and Ashley Wolff. Sketched originals signed by the artists.
Reindeer drawing is 19″ x 25″ $100 (excellent condition)
Hedgie and Troll is 18″ x 24″ $75 (good condition)
Cat, Frog and other animals is 19″ x 25″ $100 (good condition)
Contact ffblnews@gmail.com if you're interested in purchasing any of the above listed items.