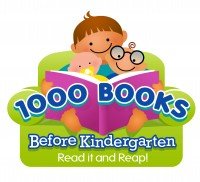 1000 Books Before
Kindergarten
An Early Literacy Initiative:
In association with Read Aloud 15 Minutes and sponsored by the Rotary Club of Fort Bragg and the Friends of the Fort Bragg Library, Fort Bragg Branch Library is participating in a national early literacy initiative called 1000 Books Before Kindergarten. This multiyear project encourages parents to read aloud at least 1000 books with their children before they enter school. Experts say reaching this goal will help children entering Kindergarten learn to read independently.  This is a great way to get an awesome jump start on success in school!
How does it work?
Children who register will receive a 1000 Books Before Kindergarten early literacy book bag and a packet that contains a simple reading log to record all books read to your child. Also included in the packet are suggested reading lists, early literacy activities you can do with your child and other fun things. Families are encouraged to return to the Library every time they finish reading and listening to 100 books. Then, children will receive a new reading log for their next 100 books, along with small incentives at each new level. Children who reach the 1000 book goal will receive a special prize, a certificate and their name will be added to our 1000 Books Before Kindergarten Wall of Fame! 
Here are the easy steps for participation:
Register for the program at the Fort Bragg Branch Library.
Read aloud together—at least 15 minutes every day.
Mark off or color an icon for every book you read on your 1000 Books Before Kindergarten Reading Log. If you read a book more than once, you can record it each time. Books read at Library Story Time, at daycare, or by others to your child also count! (This is a great way to get older children involved)
When you finish 100 books, bring your sheet to the Library and:

Receive a new Reading Log for your next 100 books
Receive a special prize at each new level

Repeat steps 2-4 until you've read 1000 books!
This program has no end date except your child's going to school, so don't feel rushed – just enjoy the experience! Take every chance you have to read with your children, tell and talk about stories, say nursery rhymes, sing songs, and attend Library programs. By reading just three stories a day you and your child will have read over 1000 books in one year! You will also have shared many special moments along the way. The Library is a fun place featuring books to check out, free programs and great suggestions for what to read. Stop in often and talk to our friendly staff –we are here to help.
Questions?
Contact the library @ 707-964-2020 or fortbraggbranchlibrary@gmail.com
Happy Reading!