December Staff  Picks
Dan recommends: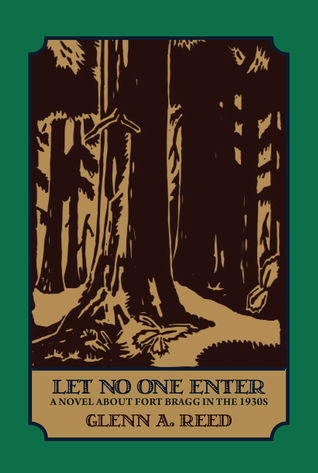 Let No One Enter by Glenn A. Reed
Glenn A. Reed's novel, Let No One Enter, is set in Depression-era Fort Bragg. Reed's protagonist, Ranfree, is a Stanford graduate eager to begin life outside academia. The scarcity of plum teaching jobs leads him to accept an offer from the principal of Fort Bragg Union High School, (based on the real J.S. Cotton) who recruits him, in person, to come teach. Desperate times call for desperate measures. Reed wrote the book in the 1970s, based on his memories of a Fort Bragg teaching stint from 1935-1937. It's an account of a 25-year old man striking out into the unknown to make a living. Reed's description of the drive up from Palo Alto is priceless! The locations and landmarks are ones you will recognize, perhaps with more affection than the new teacher trapped here. The fog of Fort Bragg, mental and actual, really gets him down. It's a bleak hard book, candid about the need for sex and its antagonistic relationship with love. Ranfree "courts" (or accosts) a fellow teacher, Mueller, and can't ever meet her half-way. One night they drive up Highway 20 and park in the woods to neck, listening to the car radio. "Where the blue of the night meets the gold of the day, someone waits for me." Things get steamy but get stuck at that. Ranfree is turned off by the sappy lyrics that Mueller adores, realizing that his sexual advances are way off the mark. He steps out of the car. Standing in the dark woods, he is alone with his depression: "When the black of the night meets the black of your mind, nobody is there, not even you." It's a haunting story–almost an expose–of the racism, sexism and economic despotism that shaped our town.
Amie recommends:
A quick, sweet—yes, sweet—read from Stephen King. This is the first book I've read by the man since he announced he was no longer going to write except monthly in Entertainment Weekly, so I purchased a subscription and then the turkey went and wrote like 86 more books and I spent three years trying to get rid of my stupid Entertainment Weekly subscription. Anyway, it's a lovely little book that is simple and heartwarming—unlike any of his others. Not one bit scary, so you're warned if you're looking for the chill factor, but encouraged if you've never been able to read him because of the nightmares.
The ultimate Christmas movie. No recommendation needed, DIE HARD!
Jen recommends:
An interesting non-fiction about the undervalued characteristics of introverts and how our natural personality traits can be used to their fullest potential in different situations. It was nice to discover that, in a world full of extroverts, there is a place for people like me. We offer something different than our gregarious counterparts and that is just how it should be. I suggest this read to anyone who might feel the need to understand their introverted selves or others a bit better.
John recommends:
A continuation of McManus's humorous reminiscences, both of childhood and as an adult. Such characters as Rancid Crabtree and Crazy Eddie Muldoon are well represented.
This graphic non-fiction work turned out to be a page turner. Well edited, it provided a good basic history of Yiddish language, mostly in the U.S. but with plenty of background from Eastern Europe.
Valerie recommends:
Mindy Kaling is a rising actress in an industry that has often overlooked people of color. In this collection of personal essays, Kaling describes the ups and downs of her crazy adventure into comedy and acting. While most of the essays focus on Kaling's time before the hit show "The Office," she also discusses how she hopes she can break down societal biases and the misguided perceptions of female beauty by taking on roles that are unexpected and challenging. If you want a good laugh, Kaling does a wonderful job of narrating the audiobook.
Love Warrior by Glennon Doyle Melton
In this emotional and moving memoir, Glennon Doyle Melton relates her experiences of going through a divorce later in life. She explores topics of growth and overcoming grief. Love Warrior provided several moments to reflect on one's own approach to love and loss.  The thoughts and emotions that Melton discusses in her book were so relatable that it left me in a state of wonder. While I have not had the same hardships as Melton, I found her writing to be revelatory.
Peggy recommends:
Lethal White by Robert Galbraith (aka JK Rowling)
In the newest edition of the Cormoran Strike series, Strike and his former assistant, now partner, Robin, are on a case that delves deep into the past and privileged lives of some of London's upper class citizens. Not only is the case tricky but the relationship between Strike and Robin grows trickier as well. Another good read from one of my favorites.
Bruce is your average bear who needs his sleep in the winter. But when the other forest creatures insist he stay awake, he is grumpy and cold. He dons his long underwear and knit hat only to be mistaken for Santa by the younger critters. Another fun read in the Bruce the Bear series.
Kim recommends:
November Staff Picks
Kim recommends:
Estranged by Ethan M. Aldridge
Estranged is a graphic novel aimed at preteens and Niblet & Ralph by Zachariah Ohora is a picture book that is meant to be read aloud to 3-to-6-year-olds, but both books are about lookalikes and the true meaning of family and friendship.  In Estranged, a changeling and a human boy look alike but have very different fates, yet they must work together, with help from others, including the girl who considers herself a big sister to both.  In Niblet & Ralph, two calico cats who are mirror images of each other, as well as best friends who even talk on the phone, also swap homes but accidentally.  When things are sorted out, their two human families become friends, too, and perhaps a family.  The artwork in both works is remarkable, with richly detailed panels in the graphic novel, and cartoony but expressive and adorable illustrations in the picture book.
Peggy recommends:
The Witch Elm is a spellbinding standalone from one of the best suspense writers working today, The Witch Elm asks what we become, and what we're capable of, when we no longer know who we are.
A great read from my favorite modern day Irish writer. It won't disappoint.
The Wonky Donkey by Craig Smith
By now most of you have seen the YouTube video of the grandmother reading Wonky Donkey to her infant grandchild, the one where she is laughing so hysterically she can barely get through each page. Here is the link to the video. Watch it then get in line to read the book for yourself. I can't get through the tears of laughter to the end of the book. Cute book.