December 2015 Picks
Karen recommends: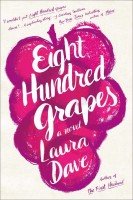 Eight Hundred Grapes by Laura Dave
Georgia Ford, after learning a shocking secret the week before her wedding, heads back to her family's Sonoma vineyard to hide but learns the rest of her family has secrets of their own they all have to deal with. A really great story about relationships, family and connection to the land that takes place in nearby Sonoma that made for an intriguing read. Fort Bragg Branch Library has a copy of this book for check out.
For fans of the Selection series by Kiera Cass, this is the latest in the series that tells of the next Selection process with the newest generation. I really enjoy the main character and appreciate the reversal of roles in book. If you liked the Selection series, you will enjoy this but for new readers I recommend reading the first three books in the series first.

Bitter is the New Black by Jen Lancaster
If you are looking for a fun, sassy and sarcastic memoir, then look no further. Jen Lancaster is hilarious as she gives us an insight into her life and the encounters along the way. Highly recommend any of her books which can all be found in our library catalog.
Carole recommends:
From a top secret government laboratory come two genetically altered life forms. One is a magnificent dog of astonishing intelligence. The other, a hybrid monster of a brutally violent nature. And both are on the loose. The explosive story of a man and a woman, caught in a relentless storm of mankind's darkest creation and the fight between good and evil.
You will get caught up in this book.
Elizabeth recommends:
For Teens: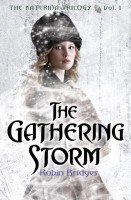 The Gathering Storm by Robin Bridges.
In St. Petersburg, Russia, in 1888, royal debutante Katerina Alexandrovna, Duchess of Oldenburg, tries to hide a dark secret–that she has the ability to raise the dead–but when she uses her special skill to protect a member of the Imperial Family, she finds herself caught in a web of intrigue.  Great historical fantasy set at the end of Imperial Russia.  Romance, political intrigue, and magic all combine to make for a great read.
For Kids: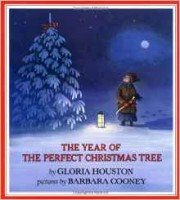 The Year of the Perfect Christmas Tree by Gloria Houston.  Illustrated by Barbara Cooney.
Ruthie and her father have picked out the Christmas tree of the church in the spring.  This year it is their family's turn to provide it.  However, when Ruthie's father must go off to war, things get harder.  Most folks believe that there won't be a Christmas tree this year, but Ruthie and her mother have a few tricks up their sleeves.  This story is set in the Appalachians, and it is beautiful both in its text and illustrations.  It is one of my all time favorite Christmas stories, and I try to read it every year.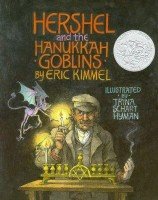 Hershel and the Hanukkah Goblins by Eric Kimmel.  Illustrated by Trina Schart Hyman.
Hershel arrives in a village on the first night of Hanukkah, but there are no candles light any where and no one is celebrating.  He soon learns that goblins have taken over the synagogue and have stopped anyone from celebrating the holiday.  Herschel volunteers to defeat the goblins.  To do so, he must spend all eight nights in the synagogue and light the candles for each night, and on the last night, he must get the king of goblins to light the candles.  So with a number of tricks up his sleeves, Hershel sets off to face the goblins in their den.  This is my all time favorite Hanukkah story.  Everything about it is absolutely wonderful, and the text and illustrations work together perfectly.  Even if you don't celebrate Hanukkah, this is a great read.
For Adults: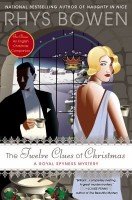 Twelve Clues of Christmas by Rhys Bowen.  On the first day of Christmas, my true love gave to me—well, actually, my true love, Darcy O'Mara, is spending a feliz navidad tramping around South America. Meanwhile, Mummy is holed up in a tiny village called Tiddleton-under-Lovey with that droll Noel Coward! And I'm snowed in at Castle Rannoch with my bumbling brother, Binky, and sourpuss sister-in-law, Fig.   So it's a miracle when I contrive to land a position as hostess to a posh holiday party in Tiddleton. The village is like something out of A Christmas Carol! But no sooner have I arrived than a neighborhood nuisance, a fellow named Freddie falls out of a tree, dead…. Dickensian, indeed.  Freddie's merely a stocking stuffer. On my second day in town, another so-called accident turns up another mincemeat pie—and yet another on my third. The village is buzzing that a recent prison break could have something to do with it… that, or a long-standing witch's curse. I'm not so sure. But after Darcy shows up beneath the mistletoe, anything could be possible in this wicked wonderland. A great holiday mystery for any fans of historical mysterious.  This one especially has a great combination humor, romance, and dead bodies.
John recommends:
Greetings:  my staff pick is Cannery Row by John Steinbeck.  I loved that the character of Doc (probably based on Ed Ricketts-Google him) invented the beer milkshake.  Other zanyness ensues.
Peggy recommends:
For Kids: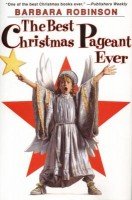 The Best Christmas Pageant Ever by Barbara Robinson
Remember this one from when you were a kid? Older children will love this 1972 classic, in which the six misbehaving Herdman kids—the "worst kids in the entire history of the world"—take over the church pageant and reinterpret the story of Christmas. The mix of outrageous moments, hilarious hijinks and profound surprises makes this one read parents will love as much as kids.
Sorry, but I LOVE almost anything by Lemony Snicket. His frivolous sense of humor and wry storytelling make for an enjoyable (here meaning 'an activity giving delight or pleasure') pastime.
For Adults:
Holidays on Ice by David Sedaris
This was so funny I spit coffee all over myself laughing while riding Bart to San Francisco one winter morning and everyone was so intrigued by my amusement they were writing down the title of the book that had me in such stitches. Holidays on Ice (and just about anything by David Sedaris) is laugh out loud funny. This is the best book to pick up if you want to de-stress during the holidays. Enjoy.
For Teens: