Peggy recommends:
Garden of Lamentations by Deborah Crombie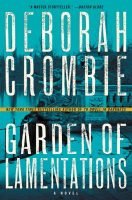 While Gemma James investigates the untimely death of a local nanny, her husband, DI Duncan Kincaid looks into a series of murders with ties to the Met that puts not only his closest colleagues in danger but his family as well. Once again, Ms Crombie weaves a web of mystery with characters we've come to anticipate and love.
For St. Paddy's Day:

Ma, He Sold Me For a Few Cigarettes  by Martha Long
You think YOUR childhood was rough. In the same vein as Frank McCourt's Angela's Ashes, Martha Long tells her story, in the unique language of her younger, Irish self, of growing up poor in Ireland in the 1950s.
Karen recommends:
Dan recommends:
A Face in the Crowd and companion documentary: Facing the Past. (DVD)
Megalomania is mesmerizing to watch and terrifying to live with. Elia Kazan directed and Budd Schulberg wrote the script. Andy Griffith acted the part of Larry "Lonesome" Rhodes. Patricia Neal and Walter Matthau played the mesmerized and horrified onlookers, respectively.
Sigmund Freud loomed large in the screening room as the movie was made, pulling strings and yanking levers in the filmmakers' minds. The female persona exerts some "mysterious control" over the power-seeking male. Very Psych-Noir.
Freud's view of wounded egos permeates this film. Lonesome starts as Larry, a Face in the Crowd, a drunken hobo that Marcia "uncovers" in an Arkansas jail. When Marcia "outs" her media sensation, Lonesome Rhodes, by turning up the microphones as he trashes his viewers, his heat-seeking Ego crashes and falls. The Audience rejects him. Marcia is cast as the Superego, doing damage control until her creation–the Ego–self-destructs.  As in Kazan's East of Eden, the film climaxes with reality-therapy or the breakdown of illusions about the Self.
Are we that simply made? The film is fascinating and true to life, despite its flirtation with Freud. There are unfettered egos everywhere, begging for attention. And we–the superegos–pretend we're in control. Read more at http://www.vqronline.org/essay/long-road-lonesome-rhodes
Jen recommends:
February 2017 Picks
Dan recommends:
Please see Dan's review for this month here
Amie recommends: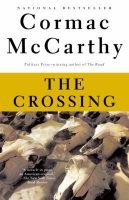 The Crossing by Cormac McCarthy
The Crossing is the second book of McCarthy's Border Trilogy and my second favorite book ever. I fell in love with John Grady from All the Pretty Horses and moved to The Crossing only to then fall in love with Billy and his quest to free a pregnant wolf. I threw this book across the room three times and sobbed inconsolably for weeks after I finished it.
Carole recommends: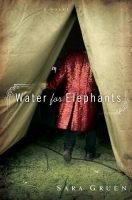 Water for Elephants by Sara Gruen
A thrilling romantic story set in a traveling circus in the 1930's during the depression.  This story is so much more than just a circus tale, it is a compelling story brought to life by this wonderful writer. This story is filled with vivid characters and a narrative that will keep you up all night.
John recommends: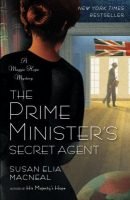 The Prime Minister's Secret Agent by Susan Elia MacNeal
There was a big OOPS in the prologue in which the author had a weary traveler get jet lag from a trip from Lisbon to the US.  Pan Am Clippers were not jets! In 1941 there were no jets. But it gets better; it turns into a domestic mystery when a biological warfare agent is misused, causing casualties. There is good character development and an interesting plot. Enjoy. John
Jen recommends: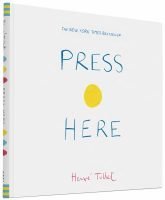 Press Here by Herve Tullet
Press the yellow dot on the cover of this book, follow the instructions within, and embark upon a magical journey! You and your children will enjoy seeing this hands-on book come to life. Children can work on learning colors, counting, and following directions.
Karen recommends:
In honor of Valentine's Day and our Blind Date with a Book display, here are some fun romances:
A fun YA summer romance story about being proud of who you are and what really matters when judging a person's character.
To All the Boys I Loved Before by Jenny Han   
Another sweet, fun YA romance story about discovering your first love.
Peggy recommends:
How to Survive the Loss of a Love by Melba Colgrove, Harold Bloomfield and Peter McWilliams
Half psychology of loss and how to work through the 5 stages of grief and half poetry based on the 5 stages. This book helps anyone experiencing loss, of any kind (death, break-up, job, money) to understand the stages and know there is relief, in time. I give copies of this book to family and friends when they experience a loss to help them through the grieving. It's better than a cheap card and genuinely offers insight into getting through the grief.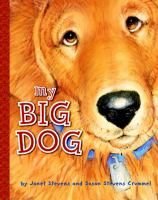 My Big Dog by Janet Stevens
Merl the Cat's pampered life is turned upside down when a little golden retriever puppy moves into the house. Merl  tells the story of how he tries his best to oust the newest member of his household. Thwarted at every turn by the ever-growing puppy, he finally comes to terms with the presence of his big dog. Hilarious illustrations by Caldecott Honor winner Janet Stevens make this one story kids will ask to read again and again!
Having experienced bringing another critter into an existing, critter filled household, I totally relate to this adorable story. And Janet Stevens' illustrations, as always, are incredible.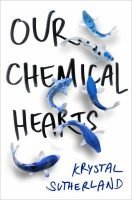 Our Chemical Hearts by Krystal Sutherland
This is a story of a boy who needed to be broken to feel, to heal, and to love.
This book captivates the heart, chews it up, and spits it out. It is raw, unadulterated, and painful, but it is also beautiful, hilarious, and witty.

A different kind of love story; a coming of age story; a broken book of broken characters. It was heartwarming and heartbreaking at the same time.
January 2017 Picks
Jen (our newest staff member) recommends:
Smilla's Sense of Snow by Peter Høeg
One of the most haunting books I've ever read, Smilla teaches us to trust our intuitions and follow through no matter the outcome, but that doesn't make it less heartbreaking. Full of beautiful information about the Inuit peoples of Greenland, this is a story that will stay with you forever.