December 2016 Picks
Amie recommends:
Holidays on Ice by David Sedaris
I never know if David Sedaris is telling the truth, and I never care. Everything he writes is hysterical and Holidays on Ice does not fall short. The Santaland Diaries make me wish I had once been a dwarf employed as an elf at Christmas. I suggest you borrow the audio version and try to not crash your car when listening to it on the long ride to Grandma's, it is that funny.
Karen recommends:
All these books can be found on the Fort Bragg New Bookshelf if not checked out.
The Bookshop on the Corner  by Jenny Colgan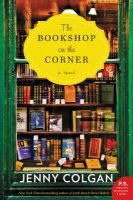 Wonderful Read about a Librarian who lost her job and found herself by buying a van converting it into a Bookshop. Charming story with likable characters and Scotland as the wonderful setting of the story.  It is a curl up by a fireplace book.
The Boy is Back  by Meg Cabot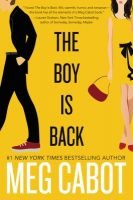 Fun story told through e-mails, blogs and texts, which doesn't take away from the characters or the story.  Cute twist on the traditional love story of boy leaves girl but comes back and tries to win her love again.
Monterey Bay by Lindsay Hatton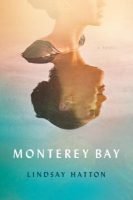 A very interesting story with the Monterey Aquarium, Monterey Bay, Doc Ricketts and Steinbeck as the background for the main character Margot.  Very intense and beautifully written.
Peggy recommends:
Poldark by Graham Winston
If you're watching this fantastic series on PBS, you'll love the books. All the drama and romance of Ross and Demelza, Elizabeth and Francis and more.
The Thrice Brinded Cat Has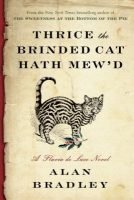 Mew'd by Alan Bradley
Flavia de Luce is back from Canada only to find her father suffering from a deadly illness and Mr Sambridge just dead. Follow Flavia as she navigates the twists and turns of deception and loss.
Art of the Pie by Kate McDermott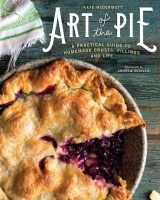 As many of you would-be bakers know, making pie is a hit and miss endeavor. Kate McDermott has put years of experience into the making of this book, Art of the Pie. While, as a vegetarian, I object to the use of lard, I was pleased to see Ms McDermott included not only vegetarian versions of her world famous pie crust but vegan and gluten free ones as well, all as great as her non-vegetarian crusts. Plus she throws in some helpful hints along the way on achieving the perfect blend of flavors, both sweet and savory. I highly recommend this book for those who love a good homemade pie.
Music:
So Let's Go by Alan Doyle and the Beautiful Gypsies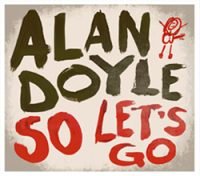 Alan Doyle, front man for the Newfoundland folk-rock band, Great Big Sea, for over 20 years, has taken on the solo world and knocks it for a loop. On board with him are the Beautiful Gypsies…Cory Tetford on lead guitar, Kendel Carson on fiddle, Shehab Illyas on bass, Kris MacFarlane on drums and Todd Lumley on keyboards and accordion. Fave tracks on this CD are I Can't Dance Without You, 1 2 3 4, Shine On and Take Us Home. If you get a chance, check out Alan and BGs in concert. Best. Show. Ever.
John recommends:
The Road to Little Dribbling by Bill Bryson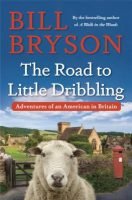 Greetings:  my staff pick for this month is The Road to Little Dribbling by Bill Bryson.  Not having read Notes From a Small Island (yet), I don't have a basis for comparison (yet).  But so far I have found that I will never play Brit Trivial Pursuit with Bill Bryson.  His style and content are engaging and the man has an obvious curiosity and probably some really good researchers.  Oh, and coincidently he really loves Britain, and it shows.  A very worthwhile book.
Dan recommends: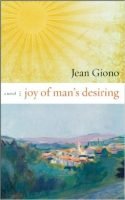 The Joy of Man's Desiring by Jean Giono
 You'll find a new copy of an old classic on our shelves, The Joy of Man's Desiring by Jean Giono. Set in southern France in the early 1900s, the novel shows how an itinerant acrobat helps a group of farmers rediscover the joy of working the land and dealing with the isolation. The writing has echoes of Thomas Hardy–complicated relationships and vivid descriptions of place. Giono's men and women are heroic and magical, yet this magic takes place on a very real earth. The newcomer, Bobi, draws the people closer together and taps their longing for community. Is he a scheister or a saint? You decide. Try to finish the book because its last chapter is magnificent, like King Lear on the heath! If the rhapsodic writing is too much for you, pick up "The Man Who Planted Trees," Giono's short parable of finding joy on earth.
Carol recommends:
Gray Mountain by John Grisham
Samantha a Wall Street attorney is laid off from her high power Attorney firm. During her time off she goes to work at a small legal aid law firm in Coal country. She finds that the law can be more than high power courtroom drama, but helping others with real problems. Along the way she finds love, friendship and a real relationship with her father.
November 2016 Picks
Carole recommends:
The DoveKeepers by Alice Hoffman
In this book each of main women has their own story, her own secrets and talents, powerful lovers and magical spells.  Soon these women develop a loyalty so fierce that they are willing to sacrifice everything for each other and the children they are entrusted with. The story moves you along, wanting to know more and what will happen next. Well written, a fast read.
John recommends:
A Man Called Ove by Frederik Backman
Greetings:  My staff pick for this month is A Man Called Ove by Frederik Backman.  This book will require  patience, as there are 185 requests for 57 copies.   This book has dark humor in which Ove is distracted from his suicide attempts by neighbors who need his help; again and again.  It is very engaging.  I found myself caring about the characters (and a diverse crew they are, including the cat) and eagerly rooted for Ove in his struggle against unfeeling bureaucracy and his grouchy, competent way of helping neighbors who become friends.  Very worthwhile.   This book was recommended to me by Esther Van Pelt and I was extremely fortunate that a copy came in as a donation, which we kept for our shelf.  Enjoy and thank you Esther.
Karen recommends:
In celebration of Picture Book Month
 Toot & Puddle by Holly Hobbie
Sweet story about 2 friends and the adventure of exploring at home and away.
Where do Balloons Go?  By Jamie Lee Curtis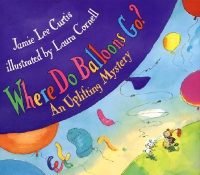 One of my favorites, a great story to read to a child.
Fancy Nancy by Jane O'Connor
One of the best picture book series ever, artwork is amazing and wonderful stories for kids about being your own person.
Amie recommends:
The Stupidest Angel by Christopher Moore
The Stupidest Angel is a lovely little book about Christmas zombies. I am terrified of zombies, but Moore's story-weaving is funny enough to make me laugh through the horror scenes and empathize with the poor not-so-living flesh eaters: they're just so hungry. The Stupidest Angel is a must read that I suggest you enjoy on the way to any beloved family holiday gathering.
Peggy recommends:
The Trespasser by Tana French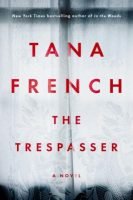 Being on the Murder Squad wasn't what Antoinette had imagined it would be. Hassled by her fellow detectives, she and partner, Steve Moran, were lucky just to get the domestic murders. Then they are made the leads for the murder of a young woman and find themselves in the middle of squad politics, not knowing if the murder is a domestic or if someone on the squad was on the take. As usual, Tana French brings us a gripping tale of the Dublin Murder Squad, full of twists and surprises along the way.
October 2016 Picks
Dan recommends:
and
Grammar of Motives by Kenneth Burke (on order for Fort Bragg Library)
It's election time. Thought I'd take the U.S. Constitution for a spin. Luckily I have Kenneth Burke's Grammar of Motives on hand. The long essay on The Dialectic of Constitutions, (1952) shows how Constitutions express a group's purpose and help resolve conflicting wishes and wills. It's a drama of people interacting with their laws. Burke reminds us that the document is addressed from We the People "to ourselves and our posterity."
As a rhetorician like Aristotle, Burke aims to show how Thought "works" and people are persuaded to act. Burke is known for his pentad of inter-related parts: scene, act, agent, agency and purpose. These are the five ingredients of any drama. "Elections" reaffirm our capacity and obligation to act–to vote representative agents into office to act on our behalf. We are the Agents the Constitution defines and protects, not the actors or president we choose to represent us. ("Citizenship" is a clear example of the law's ability to assign individuals an identity with rights and responsibilities. Women and men, turning 18, have the right to vote, so American adults are "Voters" whether or not we perform the act.)
Burke analyzed the Role of the President by discussing Franklin Delano Roosevelt's presidency. During the 30s and 40s, FDR used rhetoric to push two major acts onto the American scene: "The New Deal" and "All-out Aid to the Democracies." The latter program led and pushed Americans to war.
During the Depression, starvation, unemployment and crippling poverty brought fear and forced Americans to take huge risks and start over.  In the New Deal, private citizens won some concessions from the Business Hierarchy that caused or allowed the collapse: "…the earlier granting of private rights to public corporations, in accordance with the legal fiction that they were 'persons' with the properties of persons, had encouraged the development of these corporations to the point where it resulted in the "depersonalization," or rightlessness and rolelessness and propertylessness, of many citizens as the inevitable dialectical reflex." (383) The central government intervened in private lives, affirming the relevance and potential of constitutional principles and giving a slim measure of security to individual Americans.
Obviously, the dialectic has boomeranged to protect and personify corporations, since we hear the same language used today. Constitutional principles, under all three branches of government, have been partial to corporations for decades. But remember the Constitution was addressed to you and me. Election time is THE TIME to ask if the Constitution of and for the People is still in effect. People of all stripes campaign to "represent" us, but under what obligations–ethical or fiscal–to those who give them power?   GET OUT AND VOTE NOV 8.
War Brothers: the graphic novel by Sharon E. McKay and Daniel Lafrance (illustrator)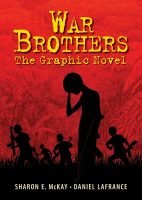 Jacob is a young man coming of age in Gulu, Uganda in 2002. He has a loving family and enjoys the opportunity of going to boarding school. He is a good friend to fellow students and feels confident and secure. As young people, they hear rumors of the violence sweeping their country, but they are safe at school. It all changes in a flash when their school is invaded by members of the Lord's Resistance Army who kidnap them and take them on their campaign. As child soldiers they are forced to kill others or to suffer amputation, starvation or death. Some kidnapped children, unable to kill, become slaves and serve the guerilla soldiers. Soldiers are fed; slaves only eat what they can find in the jungle. Some youth are broken and warped by the violence, making them even more sadistic as they mature. Some show courage and cunning after the worst kinds of abuse. Hannah, whose ears were cut off for attempting to escape, offers help and friendship to Jacob. Joseph Kony's army may have kidnapped 60,000 youth since their campaigns began in the 1990s.
The author heard real-life accounts of abducted youth as sources for her 2008 novel.  The 2013 graphic novel turns the disturbing subject matter into vivid, darkly-colored images of jungle warfare. Fear and rage come through the coloring and the lines. Machetes, grass blades, exhaustion on faces all drive the story on. Occasional humor or the memory of kindness add glimmers of hope. Will the young people escape? Who will they be in their society after being victims and perpetrators of violence? How did Joseph Kony and his warlords hold onto power with the Ugandan army, African troops, American Special Forces and international courts in pursuit for 20 years? This book is recommended to teens and adults to learn about the use of child soldiers and to think about the psychological scars of violence. The book deals with the aftermath and informs readers about international efforts to help victims of kidnapping and war.
John recommends:
Island of the Sequined Love Nun by Christopher Moore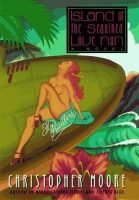 This is a bizarre and mildly ghoulish fantasy about the decline and adventures of an airline pilot.  This was the first Christopher Moore book that I read and I have read many (most) since.  It is very unusual and a bit strange.  I think there may be an unstated backstory of the research for this book which may have involved a world class Western Pacific pub crawl.
Carole recommends:
Elite by Mercedes Lackey (Book 2 of the Hunter series)
Joy knows she'll be facing more dangerous Othersiders than ever before as a new member of the Elite Hunter unit. She's been Hunting these monsters since she was a child, and has a pack of eleven fiercely protective magical Hounds. Then the rules change. Monsters unlike any Joy's ever seen or even heard of are breaking through Apex City's barriers, and the Hunters are scrambling to find new ways to fight them-all the while hiding the true danger Apex faces from the Cits, who are ignorant of the severity of the Othersiders' attacks.  Conflict escalates even further when Joy starts discovering bodies of Psimons while patrolling the city sewers on a special assignment from her uncle, who commands the Hunters. Someone is killing Psimons, and if Joy doesn't uncover the true culprit she might just take the fall for it.
Well written, draws you into the story and leaves you wanting more.
Karen recommends:
In honor of Banned Book Weeks & Teen Read Week:
Adults:
The Sun Also Rises by Ernest Hemingway
One of my all time favorite writers. Everything he writes is worth reading.  This book is Hemingway at his best and a great read to celebrate our Freedom to Read.
YA: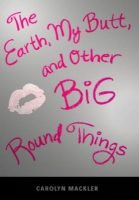 The Earth, My Butt, & other Big Round Things by Carolyn Mackler
Banned teen book that I highly recommend for teens and adults.  Very relatable  character and a heroine that learns to be proud of who she is despite her messed up family.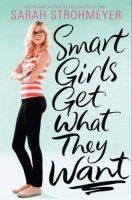 Smart Girls Get What They Want  by Sarah Strohmeyer
Fun classic story of the smart, nerdy girls trying to make their last high school year memorable. Great twist on the classic teen romance story. Fun read with likeable characters.
Amie recommends: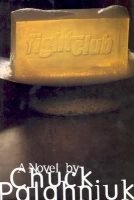 Fight Club by Chuck Palaniuk
First rule of Fight Club, you do not talk about Fight Club.
So…
Peggy recommends:
Adults:
A Great Reckoning by Louise Penny
The latest in the Chief Inspector Gamache series has the Inspector coming out of retirement to work on reviving the crippled Surete du Quebec by cleaning up the corruption at the prestigious Surete Academy. When a map of Three Pines is discovered at the scene of a heinous crime at the school, Gamache is in a race to protect not only the pastoral life of the village but his own and the future of one of his cadets as well.
True to form, Ms Penny's Gamache is multi-layered, powerful, and emotional.
The Lost Girls by Heather Young
When Justine learns she is the sole beneficiary of her Aunt Lucy's possessions, she moves her 2 daughters across country to take up residency in Aunt Lucy's dilapidated old house on a lake in Minnesota. Isolated and alone with only two odd, old men as neighbors and winter setting in, Justine and her daughters must deal with the past in order to make a life for themselves in the future. Part of the journey is discovering  the truth about what happened  to Emily, Lucy's 6 year old sister, who went missing 60 years prior and was never found.  While delving into this horrific event that shaped the lives of not only Emily's surviving family members, but all those that followed after, Justine finds the truth she's been running from her whole life.
The Lost Girls is told both in present and past tense as it moves back and forth between Lucy's story and Justine's. A truly suspenseful and captivating tale.
YA:
100 Days of Cake by Shari Goldhagen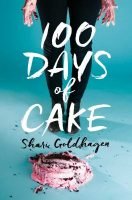 Molly suffers from depression, and when she finds out that the exotic fish store she works at is closing down, her whole life, which is already hanging on a thread, starts to crumble. Her mother thinks baking the perfect cake is the answer and tries to draw Molly into her pursuit of that goal. Molly's not so into it but lets her mother drag her along.
I admit I picked up this book because, well, CAKE! But it's not about the cake, although there is a lot of cake baking going on. This is about teen depression and it's a fairly accurate depiction at that. I really felt bad for Molly. The author also talked positively about therapy and medication and I appreciated that. Added in was a quirky cast of characters that made this book a good read.
Janet recommends:
Blood Orange by Susan Wittig Albert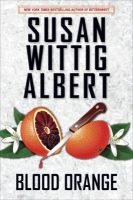 In this 24th China Bayles Mystery, Ms. Albert manages to continue to work a plot that both educates, entertains and intrigues her readers.
This time she has rented out her B and B to an acquaintance who's marriage has broken apart.  She subsequently disappears and there is some question as to the cause and it's on from there.  A number of possible reasons emerge.  Once again, there is a great ensemble cast to help China solve the puzzle and along the way you get to find out more about uses and origin of the blood orange.
September 2016 Picks
Peggy recommends:
In a Dark, Dark Wood by Ruth Ware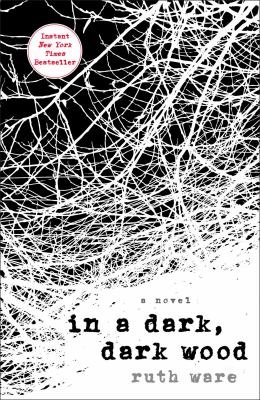 After a ten year separation, Nora can't figure out why her former best friend has invited her to a hen (bachelorette) party.  "Why her? Why now? Why here, in the dark woods?" Nora seeks answers to these questions and much more after waking up battered and bloody in a hospital room with a police guard outside the door. In a Dark, Dark Wood is an intriguing first novel by Ruth Ware. You might also like Ms. Ware's second novel, the bestselling The Woman in Cabin 10, available for request at Fort Bragg Library.
The Life and Times of the Thunderbolt Kid: a memoir by Bill Bryson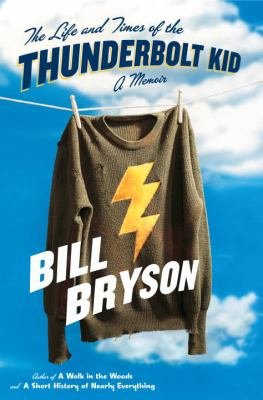 Anyone growing up in the 50's and early 60's will be able to relate to the Thunderbolt Kid. Bill Bryson's humorous memoir takes us back to a time where childhood innocence thrived and the most we had to fret about was skinned knees and the threat of "just wait until your father gets home!" I loved reminiscing those times and I think you will, too.
Carole recommends:
Watchers by Dean Koontz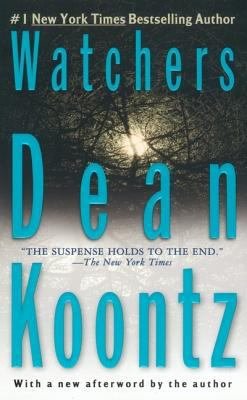 From a top-secret government laboratory, comes two genetically altered life forms. One is a magnificent dog of astonishing intelligence. The other, a hybrid monster of a brutally violent nature. And both are on the loose. The explosive story of a man and a woman caught in a relentless storm of mankind's darkest creation.
Exciting read. Had to find out the end.
Karen recommends:
In celebration of Library Card Sign-Up Month, a couple of my all time favorite Library Book Club Picks.
Where'd You Go, Bernadette? by Maria Semple
One of my favorite Book Club Picks, Where'd You Go, Bernadette? is a quirky, fun story about a girl, her unusual mother and the adventure they embark on.  Fantastic read and I am looking forward to Maria Semple's new book coming out this Fall.
The Guernsey Literary and Potato Peel Pie Society by Mary Ann Shaffer and Annie Barrows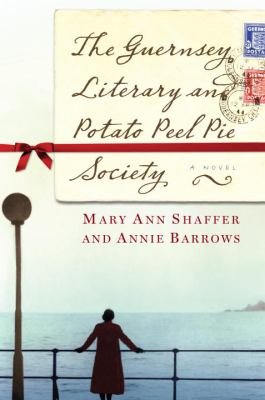 A wonderful story filled with characters you will love. This book should be read by everyone. Also, author Annie Barrows has a new book out, The Truth According to Us, ready for request at the library. Annie is also the author of the favored juvenile series, Ivy and Bean. Check her out! You won't be disappointed.
The Night Circus by Erin Morgenstern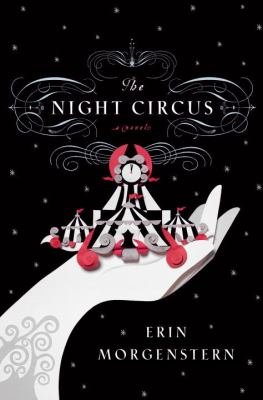 An intriguing story about a magical Night Circus.  Very descriptive story filled with mystery, fantasy and some romance.
John recommends:
Trout Fishing in America by Richard Brautigan 
Trout Fishing in America is a novella written by Richard Brautigan and published in 1967. It is technically Brautigan's first novel; he wrote it in 1961 before A Confederate General From Big Sur which was published first. Trout Fishing In America is an abstract book without a clear central storyline. Instead, the book contains a series of anecdotes broken into chapters, with the same characters often reappearing from story to story. The settings of most of the chapters occur in three locales: Brautigan's childhood in the Pacific Northwest of the U.S.; his day-to-day adult life in San Francisco; and a camping trip in Idaho with his wife and infant daughter during the summer of 1961. Most of the chapters were written during this trip. (from https://en.wikipedia.org/wiki/Trout_Fishing_in_America)

Trout Fishing in America has a quirky sort of familiarity, being set in San Francisco.  Compared to his other works, it is a much more gentle book.
Janet recommends: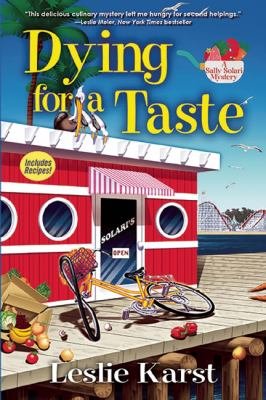 Dying for a Taste by Leslie Karst
A mystery set in Santa Cruz, CA., this is the first book by the author and is quite good for a newbie.  The main character is working for her Dad in an Italian restaurant on the boardwalk and when her aunt is murdered, she ends up inheriting the aunt's restaurant and trying to solve the crime.  One thing I recommend is to either read it after a good meal, or with snacks because her descriptions of food were so good, I found my stomach growling as I read the book. I'll definitely be on the lookout for the next one in the series.
Amie recommends:
The Art of Racing in the Rain by Garth Stein
Enzo, Stein's main character, is named for Enzo Ferrari and dreams of being a Formula One driver. He is kind, polite, and a golden retriever. And my favorite character of any book ever. Enzo's take on life is beautiful and his unconditional love makes me wish I was a better mom to my own dogs. I cried for days and walked around in a fog for weeks after finishing the last page. The Art of Racing in the Rain will touch your heart and leave a hole that will never be filled.
August 2016 Picks
Karen recommends:
Adults:
Troublemaker by Leah Remini 
Very interesting read from someone who has left Scientology.
"The outspoken actress, talk show host, and reality television star offers up a no-holds-barred memoir, including an … insider account of her tumultuous and heart-wrenching thirty-year-plus association with the Church of Scientology"
Kids:
The Teashop Girls  by Laura Schaefer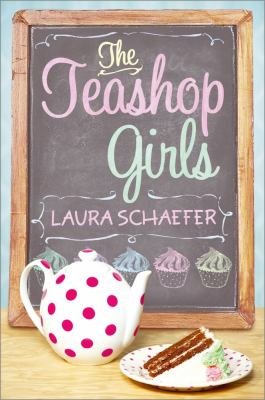 Fun read about friends who work together to save the family tea shop and all the fun drama with being a tween.
Fourteen-year-old Annie, along with her two best friends, tries desperately to save her grandmother's beloved, old-fashioned teashop in Madison, Wisconsin, while she also learns to accept the inevitability of change in life. Includes proverbs, quotations, and brief stories about tea, as well as recipes.
Peggy recommends:
All the Missing Girls by Megan Miranda

Ten years after leaving Cooley Ridge, Nicolette Farrell returns to care for her ailing father. A decade ago, she, her brother Daniel, her boyfriend Tyler, and Corinne's boyfriend Jackson were suspects when Corinne– Nic's best friend– disappeared without a trace. Within days of Nic's return, they are plunged into a shocking drama when Nic's neighbor Annaleise, who is dating Tyler and was the group's alibi ten years previously, goes missing. Told backwards from the time Annaleise disappears, the book follows Nic as she works to unravel the truth and, in the process, reveals shocking realities about her friends, her family, and what really happened to Corinne that night ten years ago.
When I first heard the story was told backwards, I was skeptical. Backwards? How can someone pull off telling a story backwards without giving away the end? the beginning? I was intrigued. Let me tell you, Miss Miranda does not disappoint. All the Missing Girls is a page-turner, cannot-put-down book. I recommend you turn off all electronics and read it in a day, it's that good.
Janet recommends:
Killer Reunion by G.A. McKevett

This is the latest book in the series and is a change of pace as it takes place at Savannah's 25th high school reunion in McGill, GA instead of her usual stomping grounds in Southern California.  It contains the usual, quirky characters, delicious descriptions of Southern Cooking (just reading about the biscuits and sausage cream gravy for breakfast made my arteries harden..yummm), and Savannah feisty as ever,  She even gets the chance to finally even some scores against her high school nemesis Jeanette Barnsworth nee Parker and her former cheating high school love, now the town sheriff.  Of course, there's a body and Savannah and her new husband Dirk find themselves in a real fix…but to tell more would spoil the plot.  Read it on a cool, foggy North Coast day so you can appreciate that you aren't in Georgia in the middle of summer.
John recommends:
Fifty Acres and a Poodle by Jeanne Marie Laskas
This is a love story about the transition from urban to rural life and people caring about each other.  It is definitely a feel good book.  Enjoy.
Who hasn't daydreamed about throwing away the old life and starting a new one? Here's a delicious read for anyone who has ever fantasized about chucking it all and moving to the country. With irreverence, punch, and perception, personal essayist Laskas reflects what it's like to follow a dream–as well as to buy a mule–in this charming memoir.
Carole recommends:
Aerie by Mercedes Lackey

Book four of the dragon jousters
Kiron has secretly gathered an army of dragon riders to seek refuge in the abandoned desert city they have named Sanctuary, where they join with other dragon riders to rid their world of both war and magical domination. But now it is time to build a new society in Aerie: an ancient city that seems to have been designed for dragon riders and their dragons.
Lackey writes the best dragon stories, hands down.
Elizabeth recommends:
Kids:
Demigods & Magicians by Rick Riordan

Percy and Annabeth find their paths crossing with Carter and Sadie Kane in three short stories.  Fans of both the Kane Chronicles and the Percy Jackson books will love these crossovers, and they make for a fun quick read.
Teen:
The Glittering Court by Richelle Mead

In an attempt to escape an arranged marriage, the young countess Adelaide disguises herself as a servant to enroll in the Glittering Court as a way of making it to the New World.  There she makes friends and uncovers a secret that threatens to derail all of her plans.  A great read and a surprising take on this sort of story.  It has a great combination of romance, adventure, and intrigue and will appeal to fans of The Selection and The Jewel.
Adult:
Crowned and Dangerous by Rhys Bowen
Georgie and Darcy find themselves beset with problems when they attempt a romantic getaway and end heading to Ireland to try and clear Darcy's father of murder charges.  With great humor and wonderful new characters, the latest installment of the Her Royal Spyness mysteries won't disappoint, though it will leave readers wishing for the next book to come sooner rather than later.
July 2016 Staff Picks
Dan recommends: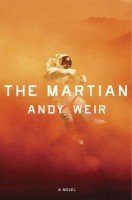 The Martian by Andy Weir
Mark Watney, part Robinson Crusoe, part Doctor Who, is on a Mission to Mars. Early in the mission, a savage storm blows through camp and Mark's suit is impaled by loose equipment. The rest of the crew is safe and retreats inside their living quarters. The mission commander is advised to abandon the mission and use the ascent vehicle to return to space. Mark's suit issues no vital signs, so the crew leaves him for dead on the red planet. A technothriller is born. There are many setbacks and reversals which make it a good all-nighter. The book takes survival stories to new heights. The levels of engineering complexity have won respect from scientists and sci-fi fans. His technical solutions are full of surprises and push the story onward.
Author Andy Weir wrote serialized installments on Amazon and readers soon wanted to see the book in full. Weir's background as a software engineer adds to the humorous logic of the book and works its way into the characterization of Mark Watney. He is no despondent correspondent, languishing on Mars. He's a wise-cracking survivor who wins our sympathy. There's a slew of stock characters who appear in most thrillers, but that's part of the fun. The character traits of other people only come into play on the periphery of Mark's survival story. He's the one on our radar. Their bravery and military precision help him out when it matters most.
Though it's a great read, Weir pushes a message that rings a bit hollow on planet Earth, where technology is frequently used for violent ends and space technology may not be immune from the madness. In Weir's world, "Good People" do good things, overcoming self-interest; countries cooperate to improve their public image. Win-Win. These ideals might explain the popularity of the book on Amazon since many people are longing for an outpouring of goodwill. Unlike deeper science fiction, the nemesis is not internal or interpersonal. It's just the planet outside the space suit. You'll find The Martian on our Lucky Day shelf.
Karen recommends:
I Regret Nothing by Jen Lancaster

.
She is hilarious , great vacation read!! If you have never read her books I highly recommend it.
My Fair Lazy: One Reality Television Addict's Attempt to Discover If Not Being A Dumb Ass Is the New Black, or, a Culture-Up Manifesto by Jen Lancaster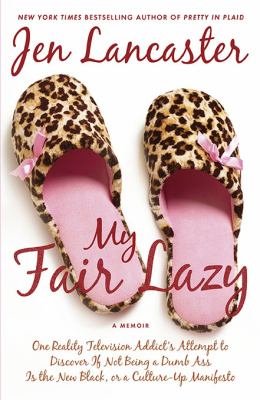 .
Another Jen Lancaster book.    She is a great writer, super fun, filled with humor and sarcasm. Loved this book. Found myself laughing out loud
Janet recommends: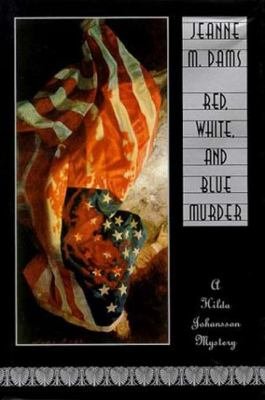 Red, White and Blue Murder by Jeanne M. Dams
In honor of the Fourth of July–This is the second in a series featuring a housemaid in the Studebaker (yes, those Studebakers) at the turn of the 20th century in South Bend, Indiana, and is available at the Fort Bragg, Library.  Although this is second in the series the author gives you enough hints about what has happened in the past so that you aren't completely lost if you read it out of order.
It's quite an interesting read as the author manages to weave actual historical events such as the assassination of President William McKinley by an anarchist at the Chicago Worlds Fair with possible connections to South Bend, the workings of an upper class home whose servants are preparing for their owner's return from a trip to Europe, and how a housemaid can manage to sleuth with only a half day and Sundays off. The murder itself is distinguished by the fact that the victim is found wrapped in an American flag, is it all part of an Anarchist Plot? Labor unrest?  Political corruption at City Hall?
Elizabeth recommends:
Adults:
Beatrix Potter's Gardening Life by Marta McDowell
A great read for any gardener or any fan of Beatrix Potter, the book follows the seasons at Hilltop Farm and what plants were growing there.
Teen: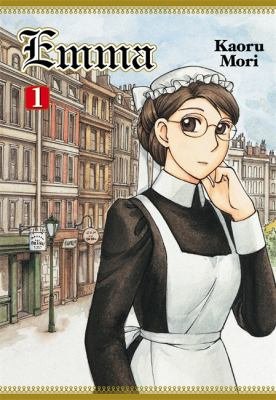 Emma by Kaoru Mori
This graphic novel series has a great Upstairs-Downstairs romance and beautiful artwork.  Set in the Victorian era, the tale is lovely and the characters are charming.  It's great even for adults, especially fans of shows like Downton Abbey.
Children:
The Tale of the Flopsy Bunnies by Beatrix Potter
My all time favorite Beatrix Potter tale.  I love the antics of the baby bunnies, and it's fun to see Peter and Benjamin as "responsible" adults.
Julio (FBHS summer intern) recommends: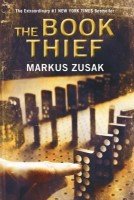 The Book Thief by Markus Zusak
I would recommend this book because it is interesting and has great details. The book sets place in Germany during World War II and it shows the struggles the characters in this story had. I really enjoy the narrator of this story who you will have to find out who it is by yourself. I really like this story because it is realistic and this could have happened during this time. This really is an amazing book which I believe everyone will enjoy.
Angelica (FBHS summer intern) recommends:
Looking For Alaska by John Green
I would recommend this book to any young adult because it's a powerful book and it will have you reading all night long non-stop.  If you love a book with romance and mystery this one is definitely one for you.  In high school many young adults experiences first times, this book can also have some advice for you.
Peggy recommends: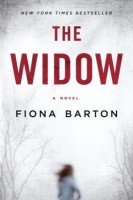 The Widow by Fiona Barton
A tale of family secrets, obsession, and crime, a couldn't-put-down-page-turner that kept me on my toes all night, asking "did he or didn't he?" This book is well written and told from varying perspectives, from the widow's to the reporter's, from the detective's to the anguished mother's. Each offering a different take on the crime based on their own experiences. I highly recommend this first novel from Fiona Barton and look forward to much more by Ms. Barton in the near future. You'll find The Widow on our Lucky Day shelf. Enjoy.
Carole recommends: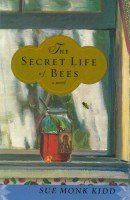 The Secret Life of Bees by Sue Monk Kidd
The year of the Civil Rights Act, in Sylvan, S.C. Fourteen-year-old Lily is on the lam with a motherly servant Rosaleen, fleeing both Lily's abusive father T. Ray and the police who battered Rosaleen for defending her new right to vote. Lily is also fleeing memories, particularly her jumbled recollection of how, as a frightened four-year-old, she accidentally shot and killed her mother during a fight with T. Ray. Among her mother's possessions, Lily finds a picture of a black Virgin Mary with "Tiburon, S.C." on the back—so, blindly, she and Rosaleen head there. It turns out that the town is headquarters of Black Madonna Honey, produced by three middle-aged black sisters. In this search for forgiveness and love, Lily finds her way.
John recommends:
The Hammerhead Ranch Motel by Tim Dorsey
This bizarre and strange psychotic rambling is quite entertaining.  It led to my reading most of Tim Dorsey.
If you like Dexter you may like this.  Enjoy but keep the lights on.
June 2016 Staff Picks
Peggy recommends:
Kids: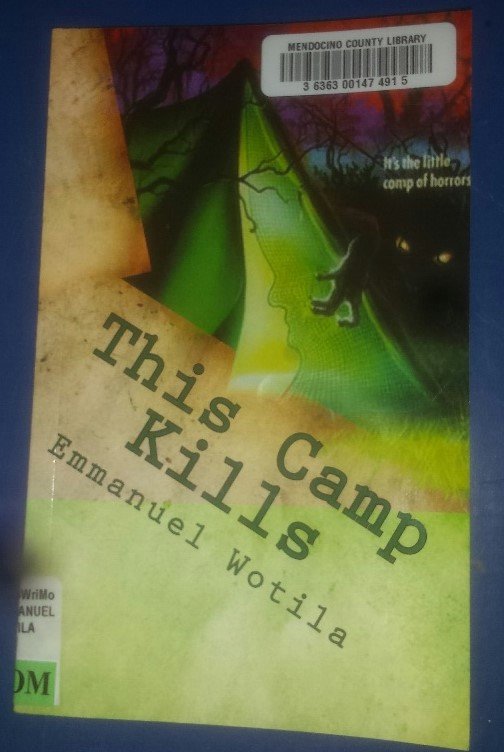 Any of our 125 Nanowrimo editions. All 125 of these books were written by students in the Fort Bragg area, all under the age of 16. Ask at the desk and we'll direct you to our Nanowrimo section. You'll be pleasantly surprised.
Adults: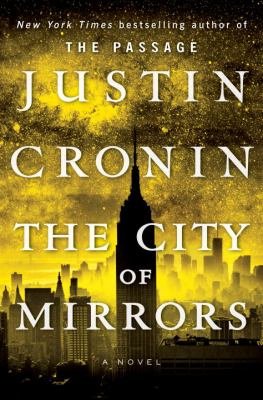 The City of Mirrors by Justin Cronin
Third and final of the Passage trilogy. These are the best, adult vampire books to come out since the original Interview with the Vampire. This trilogy…The Passage, The Twelve, and The City of Mirrors…is not for the faint of heart or the romantics. There's nothing vaguely endearing about these creatures. Best horror series to come out in a long, long time. Check them out. What do you have to lose, other than your…humanity? Bwahahaha…
Elizabeth recommends:
Kids:
London Calls by Gabby Dawnay 
A great tour of London with a grandmother and granddaughter.  A charming book that showcases the highlights of London.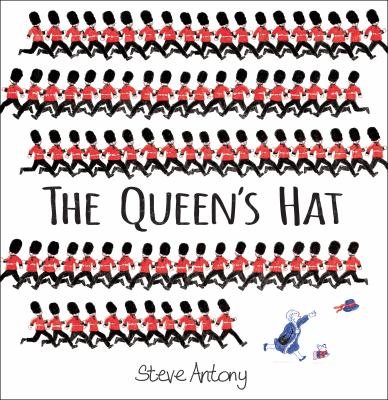 The Queen's Hat by Steve Antony
A gust of wind leads the Queen and all her men on a merry chase.  A very fun picture book with fantastic illustrations.
Young Adult: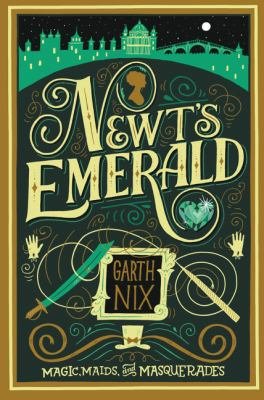 Newt's Emerald by Garth Nix
A fun Regency romp with great characters and a good sense of humor as well as a little bit of magic.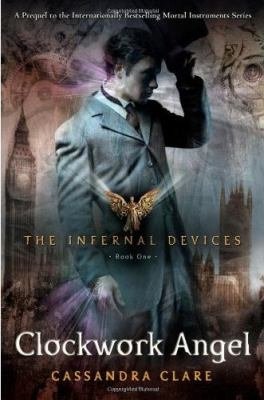 Clockwork Angel by Cassandra Clare
The first in a prequel series to The Mortal Instruments, Tess finds herself pulled into the world of Shadowhunters soon after arriving in London.  A great read for Cassandra Clare fans or if you are new to the world of Shadowhunters.
Adult:
A Share in Death by Deborah Crombie
The first book in a great mystery series staring Detective Superintendent Duncan Kincaid and his Sargent Gemma James.  A great series for fans of shows like Inspector Lynley or Inspector Lewis.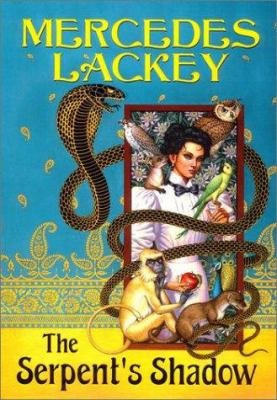 The Serpent's Shadow by Mercedes Lackey
A historical fantasy set in Edwardian England with great characters and an intriguing plot.  It also sets up the world for other adventures as well.  It's a great read for both fantasy and historical fiction fans.
Karen recommends:
In celebration of Flag Day and D-Day:

When Books Went to War: The Stories that Helped Us Win World War II by Molly Guptill Manning
Great book about America's reaction to the Nazi's propaganda machine and the burning of books by Hitler's Nazi Germany. How the American people, libraries, publishing companies and the military came together to get books to our troops.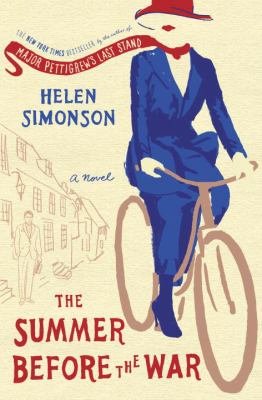 The Summer Before the War by Helen Simonson
For fans of Jane Austen, Downton Abbey and Anne of Green Gables   A charming look at the daily lives of the people in an idyllic British village of Rye right as the First World War begins. Beautifully written full of little details and characters.
The Paris Architect   
Engrossing story about a meek architect who helps to save Jewish residents of Paris. Great read!!
Janet recommends: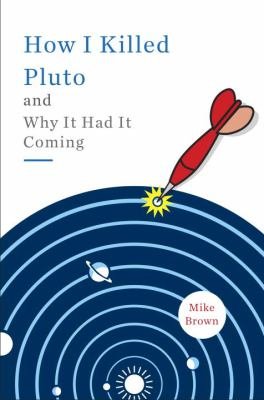 How I Killed Pluto and Why It Had it Coming by Mike Brown
An amusing, irreverent tale of how he discovered the 10th planet in our solar system, nicknamed Xena and how it led to the demotion of Pluto as a planet and how Xena suffered the same fate.  This book is for anyone who has had even a passing interest in astronomy and is a lot more fun to read than most non-fiction astronomy books.  The great thing is, you'll learn a lot about astronomy and how astronomers work and think and laugh while you are doing it. However, I would not recommend this as a source for a school project or term paper especially if you are citing it unless your teacher or professor has a sense of humor because the title just does not have that academic gravitas that is expected from a serious work.
Carole recommends: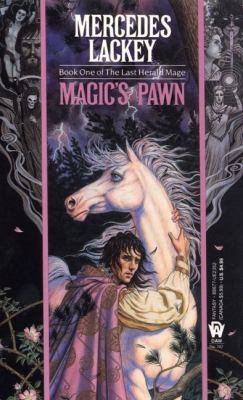 Magic's Pawn by Mercedes Lackey
Vanyel Ashkevron is miserable at home. His father wants him to be a warrior like the other boys in the family, but Vanyel wants to be a bard.  After getting beat up by the armsmaster, Vanyel is sent to be fostered by his Aunt Savil who trains Valdemar's Herald-Mages. At first, he is terrified, but soon he realizes that he is finally free to discover the truths about himself. He experiences love and tragedy and, in the end, he's a completely different person.
John recommends: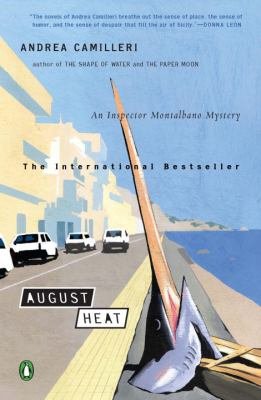 August Heat by Andrea Camilleri
A child goes missing but when she turns up, she's not all they find. I like this book because it's well written and engaging with a lot going on.
May 2016 Staff Picks
In honor of Get Caught Reading a Mystery Month at Fort Bragg Library, we've included a few mysteries in the group.
Karen recommends:
In celebration of "Get Caught Reading" Month.
Two new mysteries that have just been added to the Fort Bragg shelves. Fun cozy mysteries.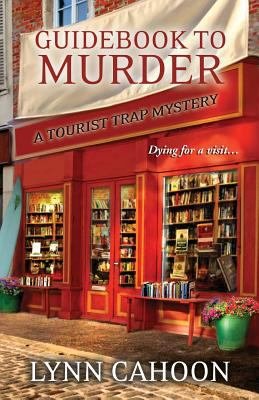 Guidebook to Murder by Lynn Cahoun
Owner of Bookstore/Coffee shop in a small Coastal town inherits the eyesore house that the city wants to get rid of. Did the original owner die of natural causes or was it murder?? Fun quaint mystery. Love the setting of the story, California Coastal Town. Reminds me of Fort Bragg.  Come check it out. Worth the read.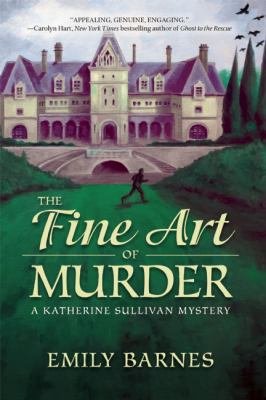 Fine Art of Murder by Emily Barnes
Another new mystery available for check out at Fort Bragg Branch Library. Cool Grandma who was the ex- police chief comes home to visit the grandkids and can't help but try and solve a local murder.  Warm characters, love the introduction of the grandson with Autism and the relationship between the Grandma and grandson.
For the true crime enthusiasts. A wonderful, interesting story about a famous serial killer in Chicago during the same time they were building the World's Fair in Chicago. Love the relationship between the two events. Utterly fascinating book.
Peggy recommends:
Adults:
Career of Evil by Robert Gailbraith 
(a Cormoran Strike mystery)
Unlike her first adult novel, The Casual Vacancy, J.K. Rowling, writing as Robert Gailbraith, has developed multi-dimensional characters that are likable and have redeeming qualities, much like her Harry Potter characters. In this third entry, Cormoran and Robin are tasked with finding a gruesome killer, on a personal vendetta, before he strikes closer to home.
YA:
Deceptive by local author, Emily Lloyd-Jones 
When immune Americans–those having acquired powers after receiving an experimental vaccine–begin to disappear in great numbers but seemingly at random, unrest spreads across the country and super-powered teens Ciere, Daniel, and Devon find themselves working together to find the truth.
Kids:
Thank You, Mr. Falker by Patricia Polacco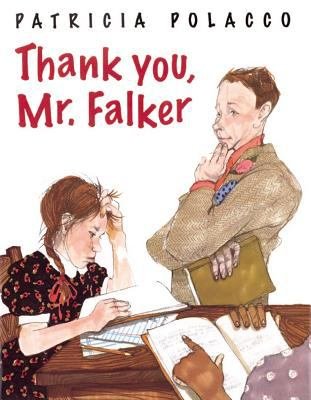 At first, Trisha loves school, but her difficulty learning to read makes her feel dumb, until, in the fifth grade, a new teacher helps her understand and overcome her problem.
Janet recommends:
Malice at the Palace by Rhys Bowen (a Royal Spyness Mystery)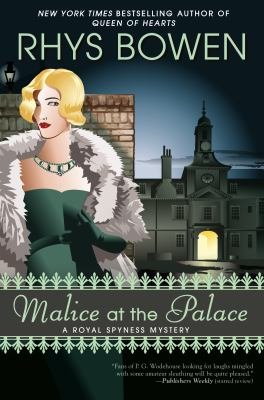 Not to give too much away, Lady Georgiana (35th in line to the British throne) has been requested by Queen Mary of England to move into Kensington Palace to ease Prince George's fiance into British society.  The fact that this is allowing her to attend social events that her social climbing snobby sister in law is not invited to gives Georgie ample opportunities to cock snooks at her (but of course, she doesn't actually put thumb to nose and wave her hand, she is much too well bred) …and then there's the body that turns up in a most compromising place.  The novel is set in 1936 England just before it all goes wrong with the monarchy, Hitler, and the Great Depression.  It's a great read, even if you aren't up on history or the British Royal Family.  If you do get confused, she eventually gives you enough clues so that you can straighten out which prince is which and who became King and who didn't.
Even if you haven't read earlier books in the series, this will stand on its own.  She may give tantalizing hints about previous books, they just encourage you to read more of the series, no spoilers.
John recommends:
Death of an Addict by M. C. Beaton
British detective Hamish Macbeth travels to Amsterdam and poses as a spiffy drug dealer to find clues to a murder. The victim was a recovering drug addict in Macbeth's village in Scotland.
John says, "This may be the best of the Hamish MacBeth series (although Death of a Village is very good too); enjoy."
Carole recommends:
Alta by Mercedes Lackey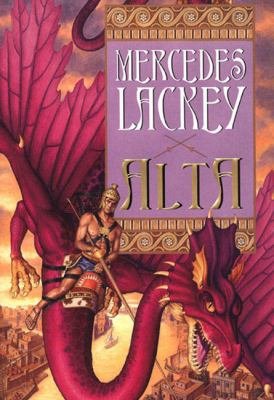 (Book 2 in the Dragon Jousters)
While a slave, Vetch raises his own baby dragon. Once the dragon has grown, he leaves for his home  across the desert. Many adventures occur while on his trip home and even more once he arrives back in Alta to find it is not the same place he left long ago. Magic, dragons and jousting what more could anyone want.
Elizabeth recommends:
Kids:
Vader's Little Princess
 by Jeffrey Brown
An adorable graphic novel great for Stars Wars and kids just getting into graphic novels.  Also a great father/daughter tale.
Adults:
Star wars : dark forces : Soldier for the Empire by William C. Dietz
This novella tells the tale of how the Death Star plans were stolen and how an Imperial soldier became a rebel agent.  It also is the first in a trilogy featuring the awesome Kyle Katarn, one of the best Star Wars expanded universe characters.
This novella tells the tale of how the Death Star plans were stolen and how an Imperial soldier became a rebel agent.  It also is the first in a trilogy featuring the awesome Kyle Katarn, one of the best Star Wars expanded universe characters.
Starfighters of Adumar by Aaron Allston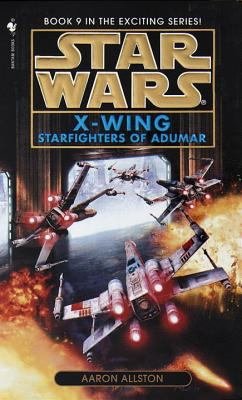 This book has a little bit of everything: humor, action, romance, friendship.  It's a great read, and you don't have to know anything about Star Wars or have read the other books to enjoy it.  It's my all time favorite Star Wars novel.
April 2016 Picks
Janet recommends: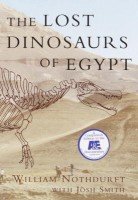 The Lost Dinosaurs of Egypt by William Nothdurft
In this stranger-than-fiction adventure, five young scientists retrace the historic 1911 expedition of Dr. Ernst Stromer and unearth a brand-new genus of dinosaur–"Paralititan stromeri"–the second largest to have walked the earth. (The 1999 expedition was filmed in its entirety by A&E for a two-hour documentary aired in February 2002).
I like this book because it's full of good narratives and a fun book of fiction but it contains enough factual information to be used as a reference guide.
John recommends:
Tricky Twenty-two by Janet Evanovich
Morelli proposed.  Will it really happen?  Find out in Twenty-three.
Wings of the Sphinx by Andrea Camilleri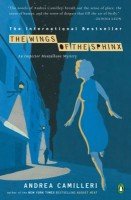 Wings of the Sphinx involves an investigation of the death and disappearance of Russian women that is somehow connected to a private social services agency… and of course, the ongoing drama of Inspector Montalbano's relationship with Livia.
Elizabeth recommends:
Kids:
All Four Stars by Tara Dairman
With charming characters, fun hijinks, and great pacing, All Four Stars is a fantastic read. Gladys is a great character and wonderful narrator. Her personality comes through clearly and definitely carries the reader into her world. The plot moves a good clip with fun twists and definite surprises. It would make a great read-aloud book as well as just a fun read.  Anyone who likes cooking or food will probably enjoy it.
YA:
The Burning Sky by Sherry Thomas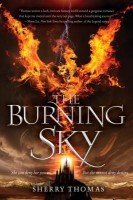 With dynamic characters and interesting plot twists, The Burning Sky is a great read for fantasy fans.  Jumping between Domain and our own world, it is easy for the reader to get sucked into the plights of both main characters.  The story is very much told in shades of gray, and the complex plot brings surprises at every turn.   The first book in a trilogy, it nicely sets the stage for further books, and definitely leaves the reader looking for more stories set in this world.
Adult:
Joust by Mercedes Lackey
For fans of both fantasy and dragons, this is a great series.  Vetch is a very compelling character, and it is easy to be drawn into the world of the story.  Vetch's character grows over the course of the story as he both gets older and his position in the world changes.  The dragons are fairly unique in their depiction and have personalities of their own.  It's a great beginning to a wonderful series as well.
Carole recommends:
Ender in Exile by Orson Scott Card
In this sequel after battle school Ender leaves Earth. He knows he can no longer live on Earth and be a pawn in his brother's political games. So off into space Ender goes on a colony ship with many exciting adventures.
I liked this book as it carries on what was started in Ender's games and allows for many more exciting adventures with Ender in books to come.
Peggy recommends:
Kids:
Ellen Tebbits by Beverly Cleary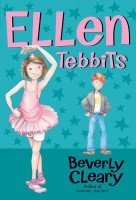 Third-grader, Ellen, has a dreaded secret shared by only her new best friend, Austine. But not everything is peachy keen in third grade and when Ellen and Austine quarrel, Ellen fears she will become the outcast of the entire class.
I love this book because it shows every child's struggle to fit in with their peers and find that one special friend who understands you.
YA:
Tweak by Nic Sheff
The author details his immersion in a world of hardcore drugs, revealing the mental and physical depths of addiction, and the violent relapse one summer in California that forever changed his life, leading him down the road to recovery.
Although not categorized Young Adult, this is a very poignant portrait of a life that started with recreational drugs, a life many young adults find glamorous, exciting and harmless, but can soon plummet one into total despair, loneliness and a life of crime.
After reading Tweak, I highly recommend the "companion" book, Beautiful Boy, written by Nic's father, David Sheff, detailing the parental view of addiction and what the families of addicts go through to save the life of their beloved child.
Adult:
The Weight of Silence by Heather Gudenkauf
Two girls go missing, one a selective mute, the other, her best friend and voice. The girls' families are bound by the question of what has happened to their children and, as support turns to suspicion, it seems the answers lie trapped in the silence of unspoken secrets.
This one was quite a page turner with lots of suspicious characters.
March 2016 Picks
Janet recommends:
As Chimney Sweepers Come to Dust by Alan Bradley
Flavia rules! In this New York Times bestselling series of enchanting mysteries, youthful chemist and aspiring detective Flavia de Luce once again brings her knowledge of poisons and her indefatigable spirit to solve dastardly crimes — but this time, she leaves behind her beloved English countryside, and takes her sleuthing prowess to the unexpectedly unsavory world of Canadian boarding schools!
John recommends:
Miss Peregrine's Home for Peculiar Children by Ransom Riggs
After a family tragedy, Jacob feels compelled to explore an abandoned orphanage on an island off the coast of Wales, discovering disturbing facts about the children who were kept there. 
This book is odd, engaging, unusual and interesting.
Karen recommends:
Kids: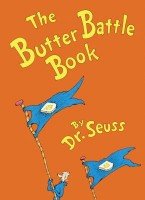 The Butter Battle Book by Dr. Seuss
Engaged in a long-running battle, the Yooks and the Zooks develop more and more sophisticated weaponry as they attempt to outdo each other.
A great Dr. Seuss book. One of my favorites, great way to introduce respect to kids and accepting everyone's differences in a very Dr. Seuss way!!
Ramona the Pest by Beverly Cleary
Ramona meets lots of interesting people in kindergarten class, like Davy whom she keeps trying to kiss and Susan whose springy curls seem to ask to be pulled.
In celebration of Reading and Women's History month, I choose my all time favorite children's author and the series and author that introduced characters to children that were just like them. Any book by Beverly Cleary is worth reading, but Ramona is one of my favorite characters. Never too old to enjoy these books.
Adults:
Books: a memoir by Larry McMurtry
One of my all time favorite authors talking about his love of books and how reading has altered and directed his life. A wonderful read connecting the power of books in our lives.
Elizabeth recommends:
Kids: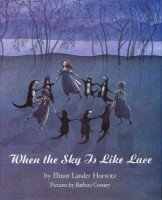 When the Sky Is Like Lace by Elinor Horowitz
Describes the strange and splendid things that can happen on a bimulous night when the sky is like lace. 
This is one of my all time favorite books from childhood, and I still find it magical after all these years.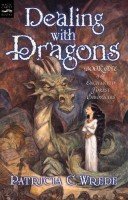 Dealing With Dragons by Patricia C. Wrede
Bored with traditional palace life, a princess goes off to live with a group of dragons and soon becomes involved with fighting against some disreputable wizards who want to steal away the dragons' kingdom.
This was one of the first fractured fairytale type books I read, and it still makes me smile every time I reread it.  Cimorene is such a great character and is great for any girls who love princesses.
YA:
Sorcery and Cecelia by Patricia C. Wrede & Caroline Stevermer
In 1817 in England, two young cousins, Cecelia living in the country and Kate in London, write letters to keep each other informed of their exploits, which take a sinister turn when they find themselves confronted by evil wizards.
I love this series.  It's a great, light-hearted introduction to regency period stories; it's just a hop, skip, and a jump from here to Pride and Prejudice.  Kate and Cecy's letters are wonderful, and the story moves along at a great clip.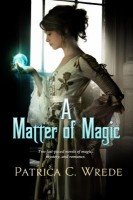 A Matter of Magic by Patricia C. Wrede
When a stranger offers her a small fortune to break into a traveling magician's wagon, Kim doesn't hesitate. Having grown up a waif in the dirty streets of London, Kim isn't above a bit of breaking-and-entering. A hard life and lean times have schooled her in one lesson: steal from them before they steal from you. But when the magician catches her in the act, Kim thinks she's done for. Until he suggests she become his apprentice; then the real trouble begins. Kim soon finds herself entangled with murderers, thieves, and cloak-and-dagger politics, all while trying to learn how to become both a proper lady and a magician in her own right. 
Set in the same world as Sorcery and Cecelia, this book reads like a cross between My Fair Lady, The Man From Uncle, and Harry Potter.  Kim's adventures made for a fun, fast read and are great for a rainy afternoon.
Adults:
Furies of Calderon by Jim Butcher
In the realm of Alera, where people bond with the furies-elementals of earth, air, fire, water, and metal-fifteen-year-old Tavi struggles with his lack of fury-crafting. But when his homeland erupts in chaos-when rebels war with loyalists and furies clash with furies-Tavi's simple courage will turn the tides of war.
This book has a little bit of everything for the fantasy fan, and the series will keep the reader engaged throughout all six volumes.
Carole recommends: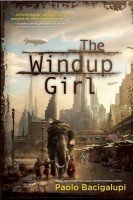 The Windup Girl by Paolo Bacigalupi
What happens when bio-terrorism becomes a tool for corporate profits? And what happens when this forces humanity to the cusp of post-human evolution? This is a tale of Bangkok struggling for survival in a post-oil era of rising sea levels and out-of-control mutation.
Peggy recommends:
Kids: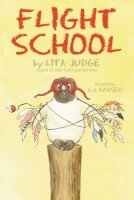 Flight School by Lita Judge
Everyone knows penguins can't fly but that doesn't deter Little Penguin. Little Penguin has the soul of an eagle and despite many failed attempts, finally realizes his dream of flight. An adorable story with fantastic illustrations.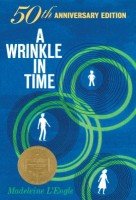 A Wrinkle in Time by Madeleine L'Engle
Meg Murry and her friends become involved with unearthly strangers and a search for Meg's father, who has disappeared while engaged in secret work for the government.
A classic for all ages.
YA: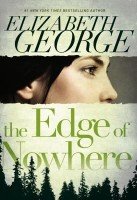 The Edge of Nowhere by Elizabeth George
When her mother abandons her on Whidbey Island, Washington, a fourteen-year-old girl with psychic abilities meets a Ugandan orphan with a secret.
Elizabeth George is the best-selling author of the Inspector Lynley series of mysteries. This is her first foray into writing for YA. Worth a read and #1 in the Whidbey Island Saga.
Adults:
Bazaar of Bad Dreams by Stephen King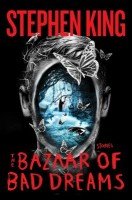 From a master of the short story, a collection that includes stories never before in print, never published in America, never collected and brand new- with the magnificent bones of interstitial autobiographical comments on when, why and how Stephen King came to write each story.
Horror mastery at it's best, from the maestro himself, with each story a reflection of his incredible diversity. "I made them especially for you," says King. "Feel free to examine them, but please be careful. The best of them have teeth."
February 2016 Picks
Dennis recommends:
The Complete Yachtmaster by Tom Cunliffe
This book covers sailing, seamanship, and navigation for the modern yacht skipper. It's an excellent book showing exciting modern electronic equipment that defines a philosophy of navigation that hasn't changed since the beginning of seafaring.
Carole recommends:
Where It Hurts by Reed Farrel Coleman
A gritty, atmospheric series about the other side of Long Island, far from the wealth of the Hamptons, where real people live and die. Gus Murphy thought he had the world all figured out. A retired Suffolk County cop, he had everything a man could want: a great marriage, two kids, a nice house, and the rest of his life ahead of him. But when tragedy strikes, his life is thrown into complete disarray. In the course of a single deadly moment, his family has blown apart, and Gus is transformed from a man who believes he understands everything into a man who understands nothing.
Karen recommends:
A Perfect Proposal by Katie Fforde
Wonderful British author, rich in detail and characters. A charming story about a British woman who gets the chance to head to New York and escape the pressure of her family. Fun romantic read.
The Royal We by Heather Cocks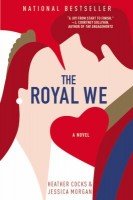 Fun romance for anyone who loves the royal family and anything involving the monarchy. A fiction tale that closely resembles the current prince's history as it follows the courtship and problems when a Prince dates and becomes engaged to an American.
Cadillac Desert by Marc Reisner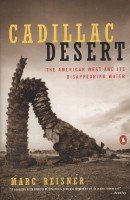 The American West and Its Disappearing Water       One of the best books to read for anyone interested in the environment and our water history. Full of rich history concerning California's search for water. Well worth the read.
Elizabeth recommends:
Kids:
We've Got a Job : the 1963 Birmingham Children's March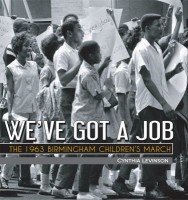 by Cynthia Levinson
We've Got a Job tells the little-known story of the 4,000 black elementary-, middle-, and high school students who voluntarily went to jail in Birmingham, Alabama, between May 2 and May 11, 1963. Fulfilling Mahatma Gandhi's and Dr. Martin Luther King, Jr.'s precept to fill the jails, they succeeded where adults had failed in desegregating one of the most racially violent cities in America. Focusing on four of the original participants who have participated in extensive interviews, We've Got a Job recounts the astonishing events before, during, and after the Children's March.  Great way of introducing and engaging kids with the Civil Rights Movement.
YA:
The Fangirl's Guide to the Galaxy by Sam Maggs
Fanfic, cosplay, cons, books, memes, podcasts, vlogs, OTPs and RPGs and MMOs and more – it's never been a better time to be a girl geek. The Fangirl's Guide to the Galaxy is the ultimate handbook for ladies living the nerdy life, a fun and feminist take on the often male-dominated world of geekdom. With delightful illustrations and an unabashed love for all the in(ternet)s and outs of geek culture, this book is packed with tips, playthroughs, and cheat codes, including how to make nerdy friends, rock awesome cosplay, write fanfic with feels, defeat Internet trolls, and attend your first con. Plus, insightful interviews with fangirl faves, like Jane Espenson, Erin Morgenstern, Kate Beaton, Ashley Eckstein, Laura Vandervoort, Beth Revis, Kate Leth, and many others.  A great read for any teen geek girls or their parents.
Adult:
Japanese Soul Cooking by Tadashi Ono
A collection of more than 100 recipes that introduces Japanese comfort food to American home cooks, exploring new ingredients, techniques, and the surprising origins of popular dishes like gyoza and tempura. Japanese food is often thought of as precise, austere, and time-consuming. But along with the high (kaiseki and tea ceremony), there is also the low (food carts and fried chicken). Through recipes, fascinating narrative, and lush location photography, Tadashi Ono and Harris Salat explore Japan's long history of homey fare, which has now firmly taken root in the US. Some of the dishes are already loved here, like ramen, soba, tempura, and gyoza, but others, like Japanese-style fried chicken, rice bowls, and okonomiyaki, and savory pancakes, will be deliciously delightful surprises, perfect for a weeknight meal or weekend entertaining.  Great for any fans of authentic Japanese food.
Peggy recommends:
My Name is Lucy Barton by Elizabeth Strout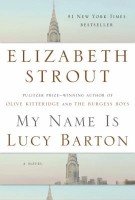 Lucy Barton is recovering slowly from what should have been a simple operation. Her mother, to whom she hasn't spoken for many years, comes to see her. Gentle gossip about people from Lucy's childhood in Amgash, Illinois, seems to reconnect them, but just below the surface lie the tension and longing that have informed every aspect of Lucy's life: her escape from her troubled family, her desire to become a writer, her marriage, her love for her two daughters. Another treasure from Pulitzer Prize winner (Olive Kittredge) Elizabeth Strout.
Mendocino Fire: Stories by local Fort Bragg author, Elizabeth Tallent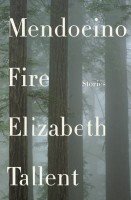 A diverse suite of stories about men and women confronting their vulnerabilities in times of transition and challenge.
These stories, many set in Mendocino County, showcase Tallent's extraordinarily vivid and closely observed writing. She's a master of the form. Go read the first few pages … you'll be hooked.  Christie Olson Day, Gallery Bookshop, Mendocino
John recommends: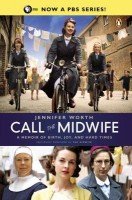 Call the Midwife by Jennifer Worth
Jennifer Worth was just twenty-two when she volunteered to spend her early years of midwifery training in London's East End in the 1950s. Coming from a sheltered background there were tough lessons to be learned. The conditions in which many women gave birth just half a century ago were horrifying. Great book that includes lots of interesting things not included in the TV series.
January 2016 Picks
Karen recommends:

Mr. Penumbra's 24-Hour Bookstore   
An entertaining story about an out of work web designer who gets a job working nights at a 24 hour San Fransisco bookstore.  Working nights, he begins to encounter some oddities which lead him to investigate more about the bookstore and its owner. His curiosity takes him to Google and a secret society. A really great read with interesting twists.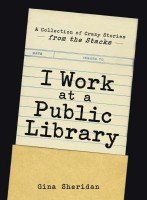 I Work at a Public Library by Gina Sheridan: A collection of crazy stories from the stacks by Gina Sheridan
If you were ever curious about some of the interesting encounters that a library staff member can face then this is the book for you. A fun little collection of various conversations, quirky characters that a librarian faces working the reference desk at the library.
The Rosie Project
 by Graeme Simsion
A fun twist on a romantic tale.  Don is a professor of genetics, who proceeds to look at finding a wife from an analytical viewpoint and creates the wife project. Of course, things don't go as planned which makes for a fun story. One of the reasons this book is so wonderful is the main character is Autistic and lets readers look at life and love from a different point of view.
John recommends:
How to Start a Fire by Lisa Lutz
A trio of former college friends reunites 20 years later to share the stories of their adventures, rivalries, secrets and losses while reevaluating the events of a single night that shaped all of them.
A Dangerous Place by Jacqueline Winspear
A brutal murder in the British garrison town of Gibraltar leads Maisie into a web of lies, deceit, and peril.
The Age of Doubt by Andrea Camilleri
One night, Inspector Montalbano dreams of a stormy sea, which he knows represents unease and loss of control. The next day, a boat is found in the port of Vigata, and within it, the body of a disfigured corpse.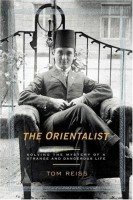 Part history, part cultural biography, and part literary mystery, "The Orientalist" traces the life of Lev Nussimbaum, a Jew who transformed himself into a Muslim prince and became a best-selling author in Nazi Germany.
Dennis recommends:
Sheds and Garages by Scott Atkinson
This book really has great plan designs with many options.  Also good ideas for greenhouse or workshop designs.
Elizabeth recommends:
The Outstretched Shadow by Mercedes Lackey
A little slow at the start, but a fantastic world that draws the reader in with all sorts of twists.  The first book in a great series.
YA: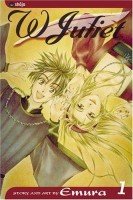 W Juliet by Emura
A great romantic comedy manga set at a high school drama club.  Wonderful if you're new to manga or if you're looking for a sweet romance.
Carry On by Rainbow Rowell
I don't think this is the story we expected when Rainbow Rowell wrote the story of Simon and Baz from Fangirl but it makes a great read.
Kids:
Lenny & Lucy by Phillip Stead
Cute picture book, wonderful illustrations, and use of color.
Extra Yarn by Mac Barnett
A fun, feel-good story with great whimsical illustrations.
The Sword of Summer by Rick Riordan
Great new series, grabs the reader right off the bat.
Troubling a Star by Madeline L'Engle
A wonderful coming of age story for tweens and you don't have to have read the other books in the series to enjoy this one.
Peggy recommends: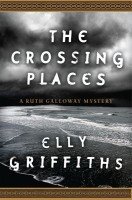 The Crossing Places by Elly Griffiths
When she's not digging up bones or other ancient objects, quirky, tart-tongued archeologist Ruth Galloway lives happily alone in a remote area called Saltmarsh near Norfolk, land that was sacred to its Iron Age inhabitants–not quite earth, not quite sea.When a child's bones are found on a desolate beach nearby, Detective Chief Inspector Harry Nelson calls Galloway for help. The Crossing Places marks the beginning of a captivating new crime series featuring an irresistible heroine.
Dear Daughter by Elizabeth Little
"When former It Girl Janie Jenkins is released from prison, she embarks on a mission to discover if it was really she who murdered her mother. The debut novel's twists will easily hook you, but it's the narrator's dark wit and sharp observations that make this a truly fun read." —Entertainment Weekly 
If you liked Gone Girl, you'll love Dear Daughter.
YA: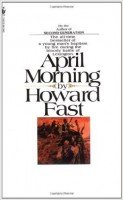 April Morning by Howard Fast
When you read this novel about April 19, 1775, you will see the British redcoats marching in a solid column through your town. Your hands will be sweating and you will shake a little as you grip your musket because never have you shot with the aim of killing a man. But you will shoot, and shoot again and again while your shoulder aches from your musket's kick and the tight, disciplined red column bleeds and wavers and breaks and you begin to shout at the top of your lungs because you are there, at the birth of freedom—you're a veteran of the Battle of Lexington, and you've helped whip the King's best soldiers. (from Amazon.com)
Kids:
Albert's Impossible Toothache by Barbara Williams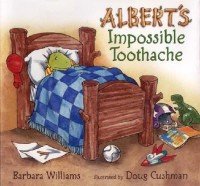 When Albert complains of a toothache and no one in his family believes him until his grandmother takes the time to really listen to him.
Mr. Gumpy's Motor Car by John Burningham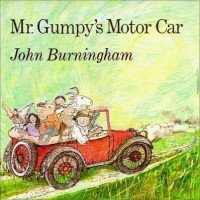 Mr. Gumpy's human and animal friends squash into his old car and go for a drive — until it starts to rain.
Carole recommends:
Forever Odd by Dean Koontz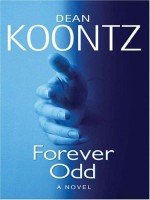 A childhood friend of Odd's has disappeared. The worst is feared. But as Odd applies his unique talents to the task of finding the missing person, he discovers something worse than a dead body, encounters an enemy of exceptional cunning, and spirals into a vortex of terror. Once again Odd will stand against our worst fears. Around him will gather new allies and old, some living and some not. For in the battle to come, there can be no innocent bystanders, and every sacrifice can tip the balance between despair and hope.
Check out our
staff picks for 2015