Summer Youth Art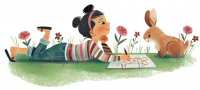 Kids and Teens (ages 3-16) are encouraged to submit original artwork for our Summer Youth Art Show.
The art should tie-in with our Summer Reading themes of camping or ways to "read beyond the beaten path."
You may use watercolor, acrylics, oil, pencil, ink, markers, crayons, pastels, etc. to create your art. 
To be included in the show, art needs to be turned into the library no later than Friday, August 12, 2022. Each art piece must be accompanied by a completed entry form.
Art will be displayed beginning August 13, 2022 at the Art and Talent Show and continue on display through the month of August.