Mendocino County Sheriff's Office Press Release
Deputy Ricky Del Fiorentino Memorial Service

Location:

Cotton Auditorium (500 North Harold Street Fort Bragg, Ca)
When:
Date:
03-26-2014
Time:
10:00 AM
The public memorial service for fallen Mendocino County Sheriff's Office Deputy Ricky Del Fiorentino will be held on Wednesday March 26, 2014 beginning at 10:00 AM at the Cotton Auditorium located at 500 North Harold Street in Fort Bragg, California.
A reception will immediately follow the memorial service at the Fort Bragg Middle School located adjacent to the Cotton Auditorium.
Law Enforcement agencies wishing to participate in a marked patrol vehicle procession are asked to arrive at the Redwood Empire Fair & Event Center (1055 North State Street Ukiah, Ca) on Wednesday March 26, 2014 at 6:00 AM.
The procession will depart at 7:00 AM and will travel approximately 60 miles along the routes of Highway 101, Highway 20 and Highway 1 before reaching the Georgia Pacific Mill Site (100 West Cypress Street) in Fort Bragg, California.
This procession will utilize the Nalemars radio frequency for communications.
A secondary Law Enforcement procession will depart the Georgia Pacific Mill Site to travel to the Cotton Auditorium after the first procession arrives at the mill site.
The Georgia Pacific Mill Site has been established as the main parking area for the memorial service and buses will be at the location to shuttle attendees to/from the Cotton Auditorium.
Parking near the Cotton Auditorium will be reserved for family, law enforcement and special guests. Carpooling to the memorial service is highly recommended.
The Mendocino County Sheriff's Office will be attempting to establish a video broadcast of the memorial service accessible via the internet for those who are unable to attend.
Anyone wishing to make monetary donations to the Ricky Del Fiorentino Memorial Fund can do so by contacting or visiting any of the Savings Bank of Mendocino County locations or by mail to PO Box 3600 Ukiah, Ca 95482 (707-462-6613).
Deputy Del Fiorentio is survived by his wife, children (ages 21, 19, 18, 6), step-son (age 29), grandson (age 5 months), step-grandchildren (ages 6, 3), parents and siblings.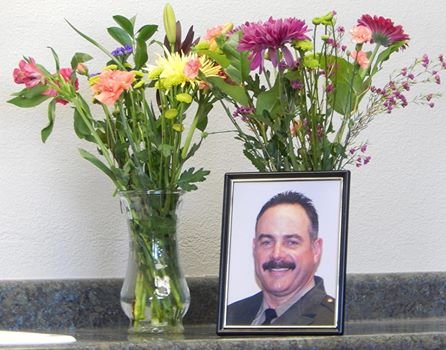 Remembering a good man…Fort Bragg Advocate
Memorial procession info can be found here:  Fort Bragg Advocate News
Mendocino TV will be broadcasting live. Mendocino TV