Paul Bunyan Days at Fort Bragg Library
For only the second time in its 81 year history, Paul Bunyan Days has been canceled—the onset of WWII and a global pandemic—proving that only extreme conditions can lead to the cancellation of Fort Bragg's most beloved event.
Even though all events for 2020 were canceled, Fort Bragg Library is still celebrating the legendary lumberman and his blue ox. For the week beginning Friday, September 4th through Friday, September 11th, you can pick up our Grab 'N' Go Paul and Babe Craft. Just stop by the Returns area (Meeting Room door) between the hours of 11 am to 3 pm (or until 7 pm on Weds) to pick up a take home bag, then, while you're putting together your Paul and Babe hand puppets,  join us for an online Paul Bunyan themed story time with Dan, the Librarian. You can watch and listen to the story by clicking on the arrow on the photo below or find the link on our Fort Bragg Library YouTube Channel.
When you finish your craft, post a picture of your completed puppets on our Facebook page to share with your friends and family!
Read more about what the library offers during COVID and reflect on good times from past Kiddie Parades.
Stay safe everyone and we'll see you at the Kiddie Parade in 2021!
Paul Bunyan Days Kiddie Parades of the Past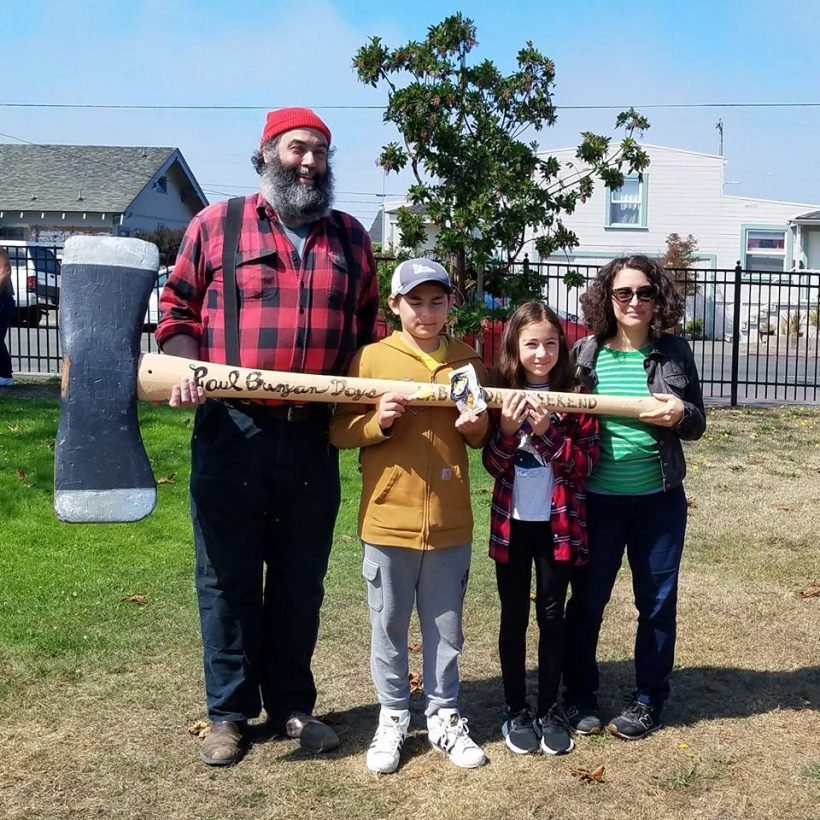 2019 Kiddie Parade Fun
Paul and Babe and friends celebrate 80 years of the Kiddie Parade!