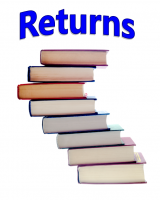 In order to accommodate working families and commuters, we are taking RETURNS until 7 pm on Wednesdays beginning September 2nd.
Tue, Thu, Fri RETURNS hours will remain the same — 11 am-3 pm.
Please place your returns on the cart at the Returns door (to the left when facing the main doors) and continue to follow health guidelines by distancing and wearing your mask.