Upcoming Sales
With Paul Bunyan Days on hold, The Friends of the Fort Bragg Library had to cancel the Annual Labor Day Book Sale for the second year in a row. In its stead, they will be holding periodic Pop-up Book Sales throughout the year.
The first of these Pop-up Book Sales is July 3, 2021 from 10-4 in the Community Room at the Library.

Available for purchase are a wide selection of Books, Books on CD, DVDs and music CDs.
Secure masks and social distancing are required.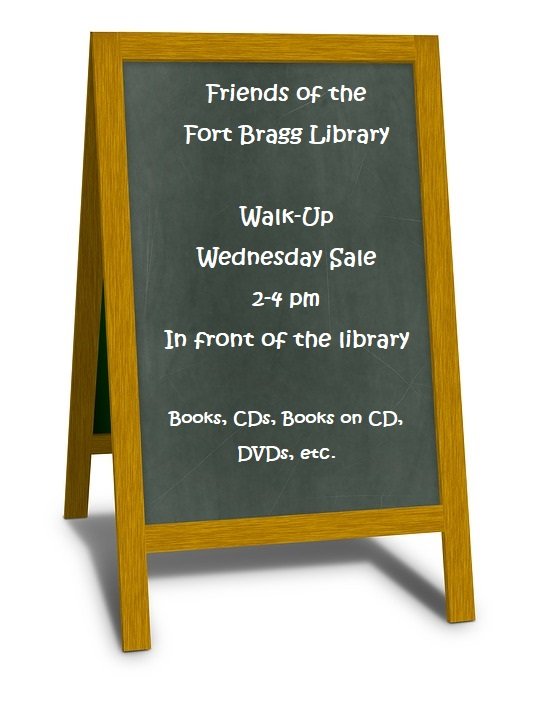 In addition, you can stop by the Friends of the Fort Bragg Library's Weds Walk-Up Sales, held every Weds, weather permitting, from 2-4 pm in front of the library's community room. Weds Walk-Up Sales will continue through the month of June (and possibly into the future. Check back here for more info). Update: With the reopening of Noyo Bookshop, the last Walk-Up Weds Sale will be June 30, 2021.

Donations are not accepted at these events due to limited staffing. However, donations are greatly appreciated and the Friends have a once a month drop-off scheduled the first Saturday of the month from 12-3.
If you can't make the first Saturday, the Friends can make arrangements for a time that works for both of you to drop off your donations. Just shoot them an email at ffblnews@gmail.com