With the theme "Tie-Dye Challenge", the Ocean Wave Quilting gnomes once again snuck into the library and draped our walls with beautiful quilts just in time for our soft, red-tiered, limited re-opening and we are thrilled!
Although, for health and safety reasons, we are stressing the need for people to "grab and go" rather than linger in the library during this limited re-opening, we do encourage you to enjoy these masterpieces as you browse for your grab and go items.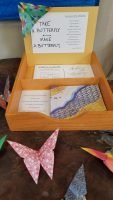 While you're at it, check out the origami display (in the glass case) by local origami guru, Kathy Silva. It's awesome!
She also created a "take and make" origami butterfly kit for you to make at home so grab one of those, too, as you head out the door with your hand-picked materials.
For those waiting until a brighter tier, you can check out the quilts in our photo gallery below.