SEPTEMBER IS LIBRARY CARD SIGN-UP MONTH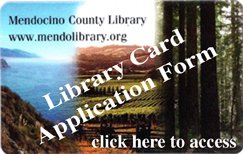 Get carded!
On Sept. 11, 2021, 10:30-12:30, Fort Bragg Library, in partnership with Mendocino Cookie Co., will reward all those who stop by the Cookie Co. & sign up for a new library account.
So what are you waiting for? Get carded!
*To get carded, you'll need your picture ID and proof of local address.