Summer Reading Kick-Off
Summer Reading kicks-off at 10 am  on June 18th
and if you're one of the first to sign-up, you'll get special prizes (while supplies last)
Then, at 3 pm
the Friends of the Fort Bragg Library
Presents
Cowgirl Tricks
Saturday, June 18, 2022
3 pm
From the website
Cowgirl Tricks
About Cowgirl Tricks
Cowgirl Tricks is a tongue-in-cheek vaudeville-style comedic bonanza of trick roping, whip cracking, music, magic, audience participation and lots of kooky cowgirl shenanigans, perfect for the whole family!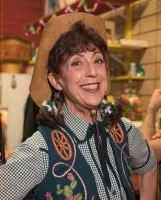 About Karen Quest:
Dubbed "America's Funniest Cowgirl", Karen Quest has been blazing a trail since 1998 with her one-woman award-winning original comedy act, Cowgirl Tricks. Skillful trick roping, impressive whip cracking, outstanding audience rapport and improvisational kooky cowgirl shenanigans have proven wildly popular at domestic and international venues for audiences of all ages.  
A former circus girl with a B.A. in Theatre from California State University at Northridge, juggling, clowning, acrobatics, fire-eating, unicycling, and stunt work, Karen brings with her expertise and decades of experience performing for family audiences at state and county fairs, festivals domestically in more in 25 states and internationally in 10 countries.