CANCELED – Wild About Dinosaurs!
April 18, 2020 @ 2:00 pm

-

3:00 pm
Wild About Dinosaurs!
Join us for a day celebrating everyone's favorite prehistoric creatures, DINOSAURS!
Dinosaur Story Time, 10:30-11
Dinosaur Kids Craft, 11-12

Fossils typically preserve hard parts such as teeth, bones and shells. Perhaps surprisingly, these types of fossils are not particularly rare. There are, however, a handful of fossil localities that preserve not just hard parts, but everything. These sites are indeed rare and can preserve delicate structures like eyes, internal organs along with animals that are usually not found in the fossil record like worms and jellyfish. These sites are collectively known as Lagerstatten. In the same way the Rosetta Stone opened up understanding in Archaeology; Lagerstatten illuminate the often murky and incomplete fossil record. These exceptional sites provide paleontologists detailed information into past life and insight into paleo-ecosystems.
Please join Rob as he takes us on a tour of some of the most amazing fossils in the world!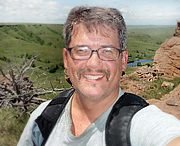 Paleo Bio
Rob Sula has hundreds of hours of experience hunting and excavating dinosaurs. As a guide, Rob has led groups prospecting for dinosaur remains in the Hell Creek Formation since 1998. Rob has participated in over 25 major paleontology excavations and has supervised several excavations including three dinosaurs with skin preservation. In 1999 Rob co-discovered the Licking Leaf site, which has produced over 100 new species of late Cretaceous plants. In 2003 Rob found a 36-foot Tylosaurus proriger that was so complete it had preserved skin on the rib cage. The discovery and excavation of this specimen is the subject of the National Geographic Children's book, Dinosaurs.
Rob has contributed, through writing and illustration, to several publications including Mark Renz's Megalodon: Hunting the Hunter and Jack Wittry's The Mazon Creek Fossil Fauna.
Rob has a BFA in Drawing and Painting from the University of Michigan and an Art Education Certification from the School of the Art Institute of Chicago. Rob taught Paleontology at the College of DuPage in Glen Ellyn, Illinois and frequently lectures about his fieldwork.