Teen Book Club – Cinder
March 20, 2014 @ 4:30 pm

-

5:30 pm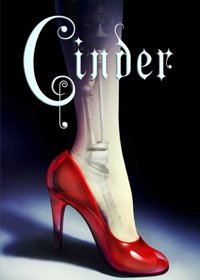 Cinder
by Marissa Meyer
". . . Cinder (sic) unfolds with the magic of a fairy tale and the breakneck excitement of dystopian fiction." –Publisher's Weekly (starred review)
Humans and androids crowd the raucous streets of New Beijing. A deadly plague ravages the population. From space, a ruthless Lunar people watch, waiting to make their move. No one knows that Earth's fate hinges on one girl. . . .
Cinder, a gifted mechanic, is a cyborg. She's a second-class citizen with a mysterious past, reviled by her stepmother and blamed for her stepsister's illness. But when her life becomes intertwined with the handsome Prince Kai's, she suddenly finds herself at the center of an intergalactic struggle, and a forbidden attraction. Caught between duty and freedom, loyalty and betrayal, she must uncover secrets about her past in order to protect her world's future. from the author's website
Cinder is the debut novel of Marissa Meyer, published by Macmillan Publishers through their subsidiary Feiwel & Friends. Cinder was selected as one of IndieBound's Kids' Next List for winter 2012. from Wikipedia
Sequels and Adaptations
There will be four books in The Lunar Chronicles. Cinder, the  first book in the series is loosely based on the classic fairytale "Cinderella".  The second book in the series, Scarlet, focuses on Little Red Riding Hood. The third book, Cress, focuses on Rapunzel. The fourth book, Winter, which is expected to be published in 2015 will focus on Snow White. Meyer has also confirmed that there has been interest in a movie adaptation of Cinder and has signed a deal for the movie, although the studio is being kept secret. The author states that the studio is currently searching for a director.
Join us for a fun discussion of Marissa Meyer's Cinder on *March 20, 2014, 4:30 -5:30 pm @ Fort Bragg Library
*Date was changed to March 20.