Meet the Author ~ Janet Finsilver
November 12, 2016 @ 3:30 pm

-

5:00 pm

Fort Bragg Library presents
Meet the Author! An Afternoon with Janet Finsilver

, author of "Murder at Redwood Cove", "Murder at the Mansion", and the soon to be released "Murder at the Fortune Teller's Table".  Join us Saturday, November 12, 2016, 3:30-5 pm and have fun Sniffing Out Murder and talking about Dogs in Mysteries.

If it weren't for the fact that she's replacing a dead man, Kelly Jackson would love her new job managing the Redwood Cove B&B on the coast of Northern California. But Bob Phillips did plunge off the cliff to his death…and Kelly's starting to think it may not have been an accident. Bob's retired friends—The "Silver Sentinels"—are also on the case, especially when Kelly is attacked…and another body turns up. Kelly has her hands full with overseeing the B&B's annual Taste of Chocolate and Wine Festival, but she's also closing in on the killer…who's ready to send Kelly on her own permanent vacation…
Coming Soon to Fort Bragg Library!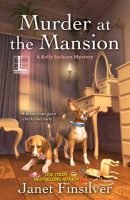 Murder at the Mansion by Janet Finsilver
Kelly Jackson returns to California to manage Redwood Cove Bed and Breakfast. 
While the inn is being renovated, she is assigned the task of inventorying a historic 
collection of objects from the 1800s housed at nearby Redwood Heights and to assist at 
the mansion during the Whale Frolic Festival. She's also asked to learn what she can about the disappearance of some jewelry from visitors' rooms.
Shortly after she arrives, Kelly finds a guest stabbed in one of the rooms, the door 
and windows locked from the inside. Then Gertrude "Gertie" Plumber, a member of the 
Silver Sentinels, a crime-solving group of senior citizens, is attacked. The police question Gertie's son, Stevie, who is working at the mansion with his bed-bug and termite-sniffing team of beagles, Jack and Jill, about the jewelry thefts as well as the murder. Kelly and the Silver Sentinels must work together to solve the crimes before another life is lost and Stevie is put in prison.

About Janet
Janet Finsilver is the USA TODAY best-selling author of the Kelly Jackson mystery series. She worked in education for many years as a teacher, a program administrator, and a workshop presenter. Janet majored in English and earned a Master's Degree in Education. She loves animals and has two dogs—Kylie and Ellie. Janet has ridden western style since she was a child and was a member of the National Ski Patrol. One of the highlights of her life was touching whales in the San Ignacio Lagoon. MURDER AT REDWOOD COVE, her debut mystery, was released on October 13, 2015. Her second book, MURDER AT THE MANSION, became available on June 7, 2016. MURDER AT THE FORTUNE TELLER'S TABLE is scheduled to be out in March, 2017.