Book Into Film – The Last Picture Show
June 4, 2014 @ 6:00 pm

-

8:00 pm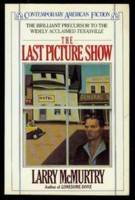 The Last Picture Show
by Larry McMurtry
Set in the early 1950s during the Korean War,  The Last Picture Show, published in 1966, is a coming of age story.  It takes place in colorless, dusty, poverty stricken Thalia, a small North Texas town.  The Last Picture Show is about a group of teenage friends who find themselves struggling with their own limited understanding of the world, surrounded by small-town ignorance and trapped by circumstance.
The Last Picture Show is a unique capture of small town America in an era of innocence and exploration, before the radical movements of the 1960s and the denigration of American naivete in the 1970s, when 'as American as Mom and apple pie' was a standard phrase used by everyone.

From Wikipedia:
Larry McMurtry (born June 3, 1936) is an American novelist, essayist, bookseller and screenwriter whose work is predominantly set in either the old West or in contemporary Texas.  He is known for his 1975 novel Terms of Endearment, his 1985 Pulitzer Prize-winning novel Lonesome Dove, a historical saga that follows ex-Texas Rangers as they drive their cattle from the Rio Grande to a new home in the frontier of Montana, and for co-writing the adapted screenplay for Brokeback Mountain. Lonesome Dove was adapted into a television miniseries and both the films of Terms of Endearment and Brokeback Mountain won Academy Awards.
Join us for a conversation about The Last Picture Show, Weds. June 4 @ 6 pm.