The Fratello Marionettes ~ a Summer Reading Event
August 8, 2017 @ 6:00 pm

-

6:30 pm
Fort Bragg Library Presents
The Fratello Marionettes,
Carnival of the Animals
Tuesday, Aug. 8, 2017
6:00 pm

'Carnival of the Animals' was written by the French composer Camille Saint-Saens in 1886, but was not performed publicly until after his death in 1921. This fanciful score serves as a canvas for presenting three classic storybook fairy tales- the 'Three Little Pigs', the 'Tortoise and the Hare', and the 'Ugly Duckling'. Utilizing a unique performance style, the puppet and puppeteer are seen in full view of the audience on a raised stage. These classic fables interwoven against the backdrop of Carnival of the Animals is the perfect vehicle for The Fratello Marionettes to both educate and delight.  

About The Fratello Marionettes: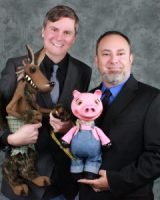 The Fratello Marionettes have been showcasing the ancient art of marionettes to audiences around the world since 1989. Shows feature their intricately handcrafted marionettes, which range from one-foot to three-feet tall.
Kevin Menegus, founder, performer, and builder, developed his unique style of puppetry while performing throughout the world. He has studied with puppeteers Tony Urbano, Bob Baker, Randall Metz and Lewis Mahlmann. Kevin received his Bachelor of Music Degree in Percussion Performance at the University Of The Pacific Conservatory Of Music. He has also performed on major cruise lines such as Crystal Cruises, Holland America and the Silverseas.
Jesse Vail, performer and builder has been a lifelong fan of puppetry. Jesse began his career as apprentice to Lewis Mahlmann. He then spent seven years as director of the Puppet Castle Theatre located at Happy Hollow Park and Zoo. Jesse has performed throughout California for several companies, including: Bob Baker Marionettes, Lilliputian Players, The Puppet Company, Driveway Follies and now The Fratello Marionettes. Jesse is also a well-regarded teaching artist, prop master, and voice talent.