Book Into Film – Screening – Mrs Dalloway
September 17, 2014 @ 6:00 pm

-

8:00 pm

Mrs Dalloway
Mrs Dalloway, the 1998 movie based on the book of the same name by Virginia Woolf, stars Vanessa Redgrave,
Natascha McElhone and Michael Kitchen.  It was directed by Marlene Gorris with adapted screenplay by Eileen Atkins.
From IMDB: In 1923 London, socialite Clarissa Dalloway's well-planned party is overshadowed by the return of an old suitor she had known 33 years earlier.
For full details on the book and a bio of Virginia Woolf, see

Mrs Dalloway book discussion

.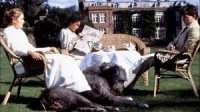 Mrs Dalloway trailer: