Cinema Sundays! Astro Boy
April 13, 2014 @ 3:00 pm

-

5:00 pm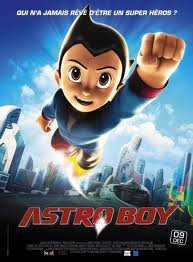 Astro Boy
Our first selection in our Contemporary Animation Series is Astro Boy, a film based on the Japanese manga series written and illustrated by Osamu Tezuka, known the world over as the "father" of anime. The story follows the adventures of a robot named Astro Boy and a selection of other characters along the way. The manga was adapted into the first popular animated Japanese television series that embodied the aesthetic that later became familiar worldwide as anime. After enjoying success abroad, Astro Boy was remade in the 1980s as Shin Tetsuwan Atomu, known as Astroboy in other countries, and again in 2003. In November 2007, he was named Japan's envoy for overseas safety.
Set in futuristic Metro City, Astro Boy is contemporary animation about a young robot with incredible powers created by a brilliant scientist in the image of the son he has lost. Unable to fulfill the grieving man's expectations, our hero embarks on a journey in search of acceptance, experiencing betrayal and a netherworld of robot gladiators, before he returns to save Metro City and reconcile with the father who had rejected him.
The American film, Astro Boy, released in 2009, was written and directed by David Bowers and features an all star cast of voices: Nicolas Cage, Kristen Bell, Donald Sutherland, Eugene Levy, Charlize Theron, Freddy Highmore, Bill Nighy and David Alan Grier.