Cinema Sundays! Anne of a Thousand Days
October 12, 2014 @ 2:00 pm

-

4:00 pm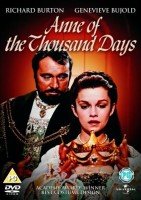 Anne of the Thousand Days is a 1969 British costume drama made by Hal Wallis Productions and distributed by Universal Pictures. It was directed by Charles Jarrott and produced by Hal B. Wallis. The film tells the story of Anne Boleyn. The screenplay is an adaptation by Bridget Boland, John Hale and Richard Sokolove of the 1948 play by Maxwell Anderson; Anderson's blank verse format was retained for only portions of the screenplay, such as Anne's soliloquy in the Tower of London, but then again, Anderson did not use blank verse throughout the play either, only in portions of it. The opening of the play was also changed, with Thomas Cromwell telling Henry VIII the outcome of the trial and Henry then recalling his marriage to Anne, rather than Anne speaking first and then Henry remembering in flashback.
The film stars Richard Burton as King Henry VIII and Geneviève Bujold as Anne Boleyn. Irene Papas plays Catherine of Aragon. Others in the cast include Anthony Quayle, John Colicos, Michael Hordern, Katharine Blake, Peter Jeffrey, Joseph O'Conor, William Squire, Vernon Dobtcheff, Denis Quilley, Esmond Knight and T. P. McKenna. Elizabeth Taylor makes a brief, uncredited appearance.
Despite receiving some negative reviews and a mixed, but complimentary review from the New York Times and one from Pauline Kael, the film was nominated for ten Academy Awards and won the award for best costumes. Geneviève Bujold's portrayal of Anne, her first in an English-speaking film, was, however, very highly praised, even by Time magazine, which otherwise skewered the movie. According to the Academy Awards exposé Inside Oscar, an expensive advertising campaign was mounted by Universal Studios that included serving champagne and filet mignon to members of the Academy following each screening.
Wikipedia.org