Book Into Film-Age of Innocence
October 1, 2014 @ 6:00 pm

-

8:00 pm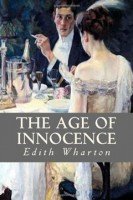 The Age of Innocence
Thought to be drawn from the Sir Joshua Reynolds painting, The Little Girl, aka The Age of Innocence, Edith Wharton's novel, The Age of Innocence, centers around the upcoming marriage of an upper-class New York couple. The presence of a scandalized woman plagues the impending nuptials and brings into question the morals and assumptions of marriage in late 1800s society.
The Age of Innocence was thought to be an apology for Wharton's earlier novel, The House of Mirth, which was a brutal condemnation of the institution of marriage.  Serialized in four parts in Pictorial Review magazine in 1920, the 1921 book, her 12th, won the Pulitzer Prize for fiction for Wharton, the first ever for a woman novelist.
Born in a time when a well made marriage was considered the only desirable goal for any young woman, Edith Wharton, defied cultural standards by being the first self-educated woman who not only won the Pulitzer but also designed and built her own home, received an honorary Doctorate of Letters from the male dominated Yale University and a was given a full membership in the American Academy of Arts and Letters.