Adult Book Group
May 26, 2022 @ 4:00 pm

-

5:00 pm
Adult Book Group
Thursday, May 26, 2022, 4-5 pm
This month's selection is: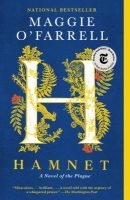 About the book:
England, 1580. A young Latin tutor– penniless, bullied by a violent father– falls in love with an eccentric young woman who walks her family's estate with a falcon on her shoulder and is known throughout the countryside for her unusual gifts as a healer. Agnes understands plants and potions better than she does people, but settles with her husband on Henley Street in Stratford. She becomes a fiercely protective mother and a steadfast force in the life of her young husband, whose gifts as a writer are just beginning to awaken when their young son succumbs to bubonic plague. — adapted from jacket
Are you interested in reviewing and discussing intriguing contemporary fiction and nonfiction books on a variety of topics?  Then you will love our Adult Book Group!
Join us as we explore books of all kinds—contemporary fiction, special interests, current and past affairs, fun trends, memoirs, etc. The goal of the Adult Book Group is to offer readers a fresh approach to the traditional book club.
To participate, send an email Branch Librarian, Dan Hess, hessd@mendocinocounty.org to reserve a copy of the book and then join us for the discussion.  You can also stop by the library or give us a call to reserve a copy of the monthly selection, 707-964-2020.
We look forward to sharing a reading adventure with you!
Related Events