The History of Life, Pt. 2 ~ a presentation by Paleontologist, Rob Sula
May 19, 2018 @ 3:00 pm

-

4:30 pm
The History of Life
The earth formed 4.54 billion years ago. Within a billion years life began…first, as simple single-celled organisms. Over the course of the next 3.77 billion years, life evolved into the complex multi-cellular plants and animals that we're familiar with today.
Join field paleontologist Rob Sula in a journey through time. Using slides and actual fossils we will explore ancient life forms that would make a science fiction author blush.
Saturday, May 5         Part 1 – The Vendian to the Permian
Saturday, May 19     Part 2 – The Triassic to the Present
Both lectures begin at 3:00 p.m.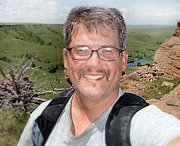 PALEO BIO
Rob Sula has hundreds of hours of experience hunting and excavating dinosaurs. As a guide, Rob has led groups prospecting for dinosaur remains in the Hell Creek Formation since 1998. Rob has participated in over 25 major paleontology excavations and has supervised several excavations including three dinosaurs with skin preservation. In 1999 Rob co-discovered the Licking Leaf site, which has produced over 100 new species of late Cretaceous plants. In 2003 Rob found a 36-foot Tylosaurus proriger that was so complete it had preserved skin on the rib cage. The discovery and excavation of this specimen is the subject of the National Geographic Children's book, Dinosaurs.
Rob has contributed, through writing and illustration, to several publications including Mark Renz's Megalodon: Hunting the Hunter and Jack Wittry's The Mazon Creek Fossil Fauna.
Rob has a BFA in Drawing and Painting from the University of Michigan and an Art Education Certification from the School of the Art Institute of Chicago.
Rob taught Paleontology at the College of DuPage in Glen Ellyn, Illinois and frequently lectures about his fieldwork.